Click Here for Previous Events
2018 Events:
Republic Day Celebration – 26.01.2018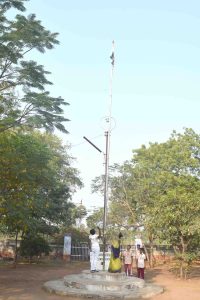 National Flag Hoisted by our Ashram Secretary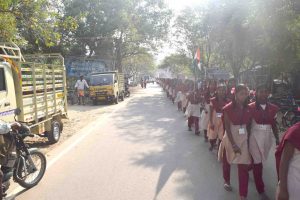 Procession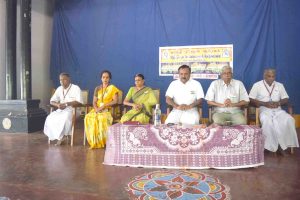 Guests on the Dais

Welcome and Presidential Address by Ashram Member Dr.V.Ragupathy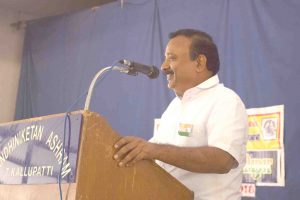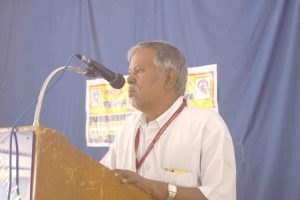 Special Guest Address by Dr.Srinivasan Former Lecturer, Sastha University

NETHAJI SUBASH CHANDRA BOSE BIRTHDAY CELEBRATION- 23.01.2018
Students and teachers   assembled at  the school  Auditorium  to celebrate the birth anniversary of a legendary freedom fighter  Subash Chandra  Bose on 23rd January. This auspicious day  began with prayer. Mr.V.Veeraraj ,headmaster  presided over the function by his enlightening  speech. It was then continued with the  speech delivered by  Mr.M.Muthukumar, a computer teacher, "While  delivering his speech, he highlighted the contribution of Nethaji  in freedom struggle  of India.  He also talked about the life history of Subash Chandra Bose  better  known as Nethaji  all over the world.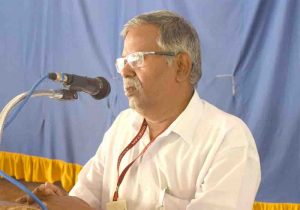 Presidential address by our HM
Special address by our Computer Instructor M.Muthukumar
Vote of Thanks by our Primary school HM
He urged the students to follow his footsteps  and  also requested them to take an oath to become leaders like him," he added. The programme ended with vote of thanks by Mrs.Parimala, headmistress, Gandhi  Nikethan  G. Venkatachalapathy primary school.
MATTU PONGAL – 15.01.2018
We celebrated Mattu Pongal in our Ashram Dairy farm. Before celebrate our dairy farm building wall renovated, white washed and decorated for the festival. All the Cattle were washed well and decorated with flowers, sandal and kumkum. Pongal was prepared in the dairy farm after prayer pongal and sugarcane were distributed to the teachers students and cattle. Our school HM and staff members participated in this festival.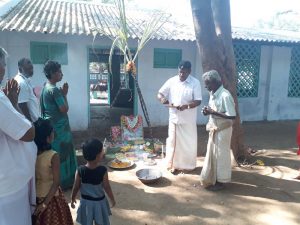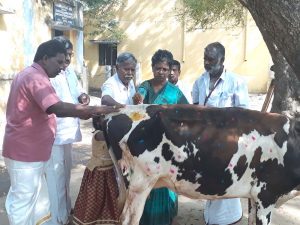 National Youth Day – 09.01.2018
National youth day(12.01.2018) was celebrated in our school auditorium on 09.01.2018 at 3.00 PM. All the teachers and students took part in it. The function started with the prayer Smt.V.Radha, Secretary welcomed the gathering and talked about the energetic thoughts of Vivekananda. Vivekanandar is a great role model. It is true for ever. She emphasized the students to follow the preachings of Vivekanandar as such, Obedience, truth, hardwork, love, self confidence and humanity.
Welcome address by our Secretary Mrs.V.Radha
Our Ashram Administrative Officer honoured the chief guest Swamiji Narayanantha Maharaj, Secretary, Sri Ramakrishna Mission, Madurai.The Chief guest was the old student of our school. He stressed the importance of youth day and Vivekanandar's faith in youngsters. We should practice to live based on God. Then only we will enjoy the real beauty of life.
He told that religion makes human being virtual. He explained Vivekanandar's golden words "Awake, Arise', Until you reach the goal" Meditation helps the students increase their concentration power.
Obedience covers Truth, Honesty, Respect, Selfless Service and Politeness. He explained the Tamil Word "Thahuthi-Qualification". Tha – Stands for Thannambikkai( Self Confidence), Ku – stands for Kurikol(aim), Thi– stands for – Thittamidal (Planning).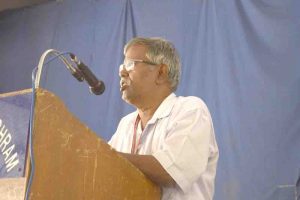 Chief Guest Address by Swamiji Narayanantha Maharaj, Secretary, Sri Ramakrishna Mission, Madurai
He asked everyone to achieve their goal by working hard with their physical strength, mental strength and spiritual strength. Sri V.Veeraraj Headmaster gave Vote of thanks. The meeting came to an end with the National Anthem. Vivekanandar Valagam which is named after Vivekanandar in our Ashram by our Chairman Prof.Dr.R.Venkataswami ayya is a great monument to awake and arise our students.
dr.J.C.Kumarappa day – 04.01.2018
Dr.j.C.Kumarappa's 126th Birth Anniversary was celebrated in our Ashram on 04.01.2018 there was a special prayer at 6.00 AM. In Gandhimandabam. Sri.V.Ragupathi Governing Body Member Gandhiniketan Ashram, all the teachers, hostel students and staff-central office took part in that prayer.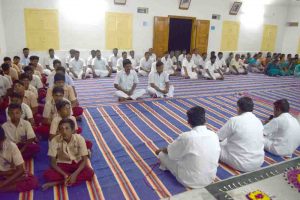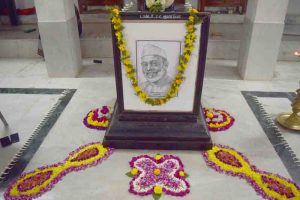 Prof.R.Venkataswami ayya president Gandhiniketan Ashram gave special message through skype. In his talk he told about Kumarappa's life style. In our Gandhimandapam Kumarappa placed Gandhiji's statue planning for roads and other places in our Ashram was designed by J.C.Kumarappa and our Founder G.Venkatachalapathy. In order to improve our country villages should be developed. Gandhiji's true disciple was Kumarappa. We must read Kumarappa's book.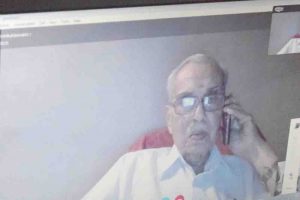 Presidential Address by our Chairman Prof.R.Venkataswami through Skype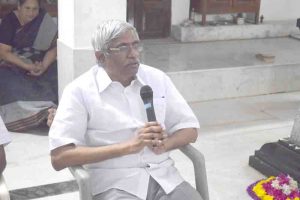 Special Message by Dr.V.Ragupathi, Governing Body Member
S
special Prayer at Kumarappa Kudil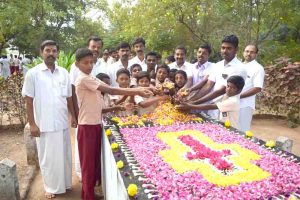 Floral Offering
After that Bhajan was conducted in Kumarappa Kudil. Then all paid floral tribute to Dr.J.C.Kumarappa in his Samathi.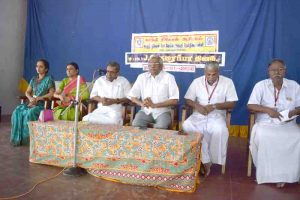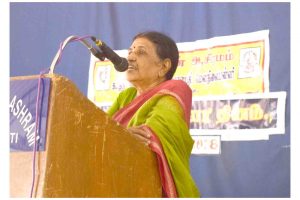 Guests of the Dais

Welcome address by our Secretary
The meeting was conducted in our Auditorium at 9.30 AM. In the meeting all the students, teachers of Hr.Secondary and Primary school, School office staff and Central office staff participated. Dr.V.Ragupathy ayya Governing body member honoured the chief guest Sri.M.P.Gurusamy, secretary, Gandhi Museum.
Our Secretary Smt.V.Radha welcomed the gathering and delivered the presidential address in her talk she talked about the relationship between Kumarappa and our Ashram. She also told about Kumarappa's Economics. She discussed the following principles of J.C.Kumarappa.Give importance to Villages and Agriculture, Protect natural resources, Removal of poverty.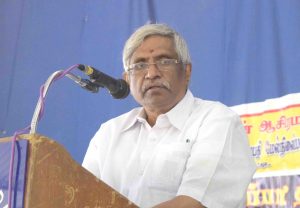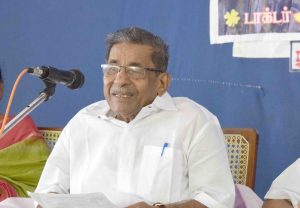 special address by Dr.V.Ragupathi Governing Body Member
Chief Guest address by Sri.M.P.Gurusamy, Secretary, Gandhimuseum
Dr.V.Ragupathy, Governing body member talked about the arrival of Dr.J.C.Kumarappa to our Ashram. He registered our institution. He learnt to lead a simple life from Gandhiji and Jesus. We should spread the principles of Kumarappa through our institution.
Sri.M.P.Gurusamy Secretary Gandhi museum in his presidential address mentioned about the qualities of J.C.Kumarappa that should be followed by students. Punctuality, Self confidence, Hard work, Dignity of Labor, Worship of God, Love they neighbor.
He described all the above qualities through J.C.Kumarappa's life history. J.C.Kumarappa's father was Duraisamy and his mother was Esther. He inherited and practiced these noble qualities from his parents.
Vote of Thanks by our HM
Our HM Sri.V.Veeraraj thanked all. The meeting came to an end with the National Anthem.
THIRUVATHIRAI FESTIVAL – 02.01.2018
Thiruvathirai was celebrated at Vinayagar temple in our Ashram. It is our traditional occasion to receive the blessings of "Lord Shiva" after our Margali Bajan our School Headmaster Sri.V.Veeraraj, our Ashram Administrative officer Sri.M.Nagarajan our staff members and Hostel students assembled at 7.30am.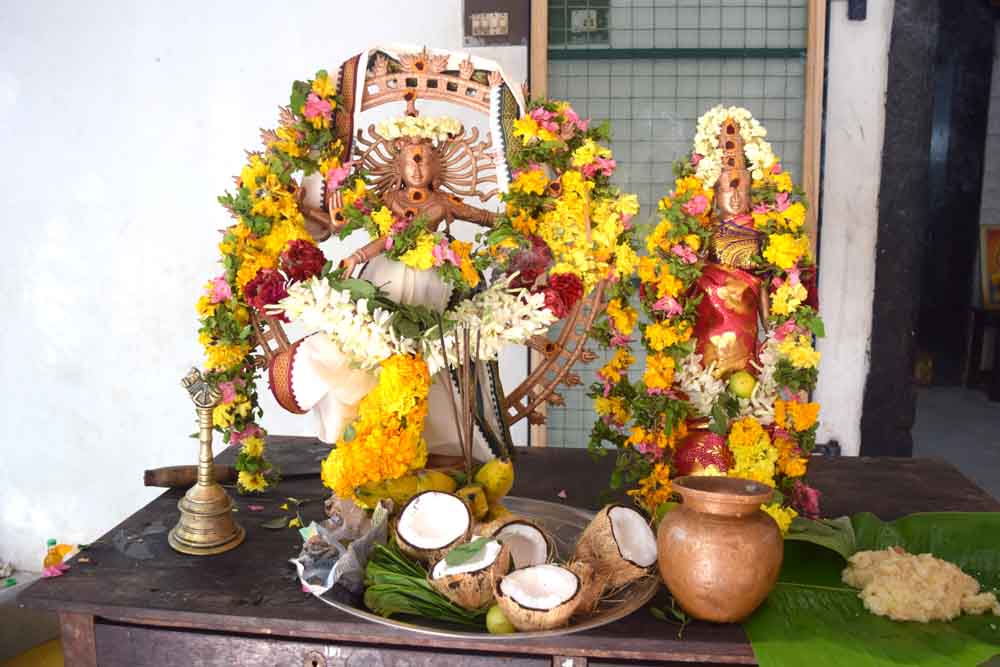 The idols of Lord Natarajar and Sivakami ammal were ready for special pooja. Abisegams were performed. Our Ashram president Prof.R.Venkataswami ayya watched Thiruvathirai function through skype. The different types of dheebarathana were performed by Poojari along with our school teacher Sri.N.Ramanisekar. Finally prasadam was distributed to all.