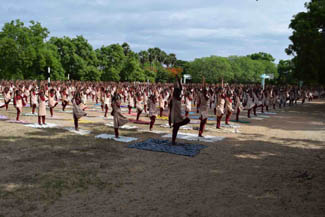 We celebrated Yoga Day in our Ashram on 21.06.2016. All the teachers of both Primary and Higher Secondary Schools, Staff-Central Office participated in the programme. Higher Secondary School boys and girls assembled in their respective areas in the ground.
The Programme started with the prayer. Sri.V.Veeraraj, Headmaster, Gandhiniketan G.Venkatachalapathi Higher Secondary School talked about the importance of Yoga. If we do Yoga daily it will increase our concentration memory power, Blood circulation, our Life time and decrease weight.
He asked the students to take Path that we should practice Yoga daily for the development of body, mind and counting also. So, that, we will be good citizens.
After that students started doing the following Aasanas.
padmasana,Patchi Muthasana,Vajrasana,Yoga Muthrasana,Pujangasana,
Thanurasana,,Utkatasana,Patha husthasana,Aega Pathasana,Thrigona Aasana
artha Chakra Aasana andSurya Namaskar.
The commands for Aasanas were given by Thiru.Lakshmana Kumar, Physical Director and Tmt.Tamil Elakkia, Physical Education Teacher.
Our President Prof.Dr.R.Venkataswami Ayya observed all the activities through skype.
The Yoga Day came to an end with the National Anthem.