Events 2023
National Science Day-28-02-2023
The National Science Day is celebrated on 28 February each year in our school to spread awareness about the importance of science and its contributions in the daily life of the people. The celebration of national science day in our school is a crucial event that helps in promoting scientific temper among students. With great motivation from our Honorable Chairman, Dr. Venkataswami, our beloved students and teachers came up with a wonderful Science fair filled with experiments and models explaining the mind boggling concepts of Science. The Chairman did not fail to address the fair and to our surprise he was accompanied by Dr. Sivarani Venkataswami, one of our Ashram's significant well-wisher and a governing body member. They made a point to visit each and every station and gave their wishes for the young minds.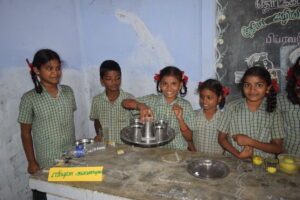 Inaugurated by our School Secretary
The exhibition was inaugurated by our Secretary, Dr. Geetha who made a stop at each and every exhibit which was displayed. Our lovely children explained their innovative scientific projects and models to everyone who paid a visit to the exhibition. Another surprise guest was, Mrs. Packiyalakshmi, Supervisor – SSA also visited and enjoyed the fair very much. The special speech was another event delivered by Mrs. Saroja, teacher which inspired students to pursue scientific thinking. The headmaster, Mrs. V.Muthumari gave a speech and encouraged our young students to explore science beyond our textbooks. To conclude, Mrs. Uma Maheshwari, teacher gave the vote of thanks. Then the exhibition was kept open for the next day for the rest of the school people to see.
Martyr's Day -30-01-2023
Gandhiji's and J.C.Kumarappa's remembrance day was observed in our Ashram on 30.1.2023 . A Special prayer was conducted in the Gandhimandapam at 6.00 A.M. After the prayer our Ashram President Prof.Dr.R.Venkataswami Ayya delivered special message through online. He told that Today's world needs Gandhiji. Dr.J.C.Kumarappa was the true disciple of Gandhiji. He died on the same day of his leader (Gandhiji). Dr. Ramachandran gave the name of Gandhi Niketan to this institution.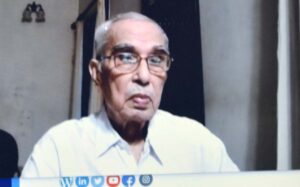 Special Message by our Ashram President

Sri.N.M.R.Subburaman, Sri. Vaithianatha Iyer and Founder G.Venkatachalapathy Ayya worked hard to establish this institution. Dr.J.C.Kumarappa stayed and guided for the betterment of our Ashram. Basic Education was the most important one which he developed. When, Dr.J.C.Kumarappa was in Govt. Hospital, Chennai our Ashram president Ayya met him. We must follow the principles of Dr. J. C. Kumarappa and Gandhiji.
Floral tribute at Kumarappa's samathi
After that Dr.V.Ragupathi Ayya talked about the importance of prayer. In his talk he told that we are observing 75th Remembrance Day of Gandhiji. Gandhiji died when he was in prayer. Our institution's main soul is prayer. In the prayer we are singing "eleven virathas". First eight out of eleven virathas are in Pathanjali, Bhagavath Gita, Vedas and upanidathas. The remaining three are untouchability, Social reconciliation and hard work. Gandhiji added social reconciliation as one of virathas because all are children of God.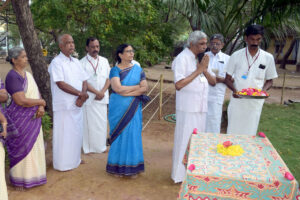 Floral Tribute at Gandhiji Statue
Gandhiji is always with us in our prayer. Because his idol, his ash and bones are here. Our institution on is considered as Sevagram of South India. When Dr.J.C.Kumarappa called by Dr.G.Ramachandran to Gandhigram he refused to go and he wanted to stay in Gandhi Niketan Ashram.
Today we pay not only tribute to Gandhiji, Dr.J.C.Kumarappa and our Founder but also to all the leaders who work hard to establish our institution.
After that we all paid a Floral tribute to Dr.J.C. Kumarappa's samathi and the statue of our Founder and Gandhiji.
Republic Day Celebration -26-01-2023
74th Republic Day was Celebrated in our Ashram on 26.01.2023. Smt.Dr.V.Geetha Secretary Gandhi Niketan Schools hoisted the National Flag and delivered the Republic Day wishes to all. Then we all went on a procession in the main streets of T.Kallupatti, raising the slogans Jai hindh, VandeMatharam,Mahatma Gandhi ki jai.
National Flag Hoisted by our School Secretary
Procession in the main streets of T.Kallupatti
We all gathered at 10.00 A.M in the Auditorium for the meeting. The meeting started with the prayer. Smt.Dr.V.Geetha welcomed all and released the 15th edition of E-magazine –Voice of Gandhi Niketan.
Release of e-magazine
Smt.S. Saroja, Teacher, delivered the special address. She described the moral values truth, hardwork honesty, braveness, patriotism etc. Many great leaders work hard to bind our nation with true love.
This day we have to pay salute to all the patriotic leaders. After Republic many amendments in our constitution have been made.
Education to all.
Food to all.
Property rights to women.
Voting rights.
The power of military Forces.
In the Indian history Independence day and Republic day are considered to be the great rituals. Everyone should take steps to develop our country in all fields. We should obey the laws and spread the patriotism. She read the lyric "My Dream India"
Sri.M.Nagarajan HM thanked all. The meeting came to an end with the National Anthem.
National youth Day-13.01.2023
Every year Vivekanandar Jayanthi is celebrated as youth day. The meeting Started with the Prayer at 9.00 am. In the Auditorium. Smt. Dr.V.Geetha, Secretary Gandhi Niketan Schools Welcomed all. Prof.Dr.R.Venkataswami Ayya, President Gandhi Niketan Ashram Watched this Programme through online. Swamiji Aathiprabhanantha, Ramakrishna Math, Madurai delivered Special address.
Special address by Swami Aathiprabhanantha
Swamiji talked about the importance of youth day. He asked the students to take three Oaths on this day.
Every one must have aim in life.
In life we have to choose one role model.
That role model should be swami Vivekanandar.
According to that we lead our life.
Don't take cine stars and cricket Players as role model. Swami Ramakrishna Parahamsar was Vivekanandar's Guru. This made Vivekanandar to get sacredness to himself as well as the world.
Vivekanandar spread the spirituality of India to all over the world. Think good and react according to it Vivekananda did it. So he was praised by all. Sri.M.Nagarajan HM thanked all. The meeting came to an end with the National Anthem.
THIRUVATHIRAI – 06.01.2023
Thiruvathirai was celebrated at vinayagar temple in our Ashram. It is our traditional occasion to receive the Margali bhajan. We all assembled at 7.00 a.m. Lord Natarajar and Sivakami Ammal were kept ready for special Pooja.
Special Pooja to Lord Natarajar and Sivakami ammal
Abisegams were performed. Our Ashram president Prof.Dr.R.Venkataswami Ayya and also watched this Thiruvathirai function through online. Special Arathana was performed with different types of deepas. Finally prasadam kazhi and pongal were distributed to all.
Thiruvathirai meeting started with the prayer at 3.30p.m in our Auditorium. Sri.M.Nagarajan H.M. Welcomed all. Smt.Dr.V.Geetha Secretary Gandhiniketan Schools presided over the meeting. Sri.Dr.N.RamaniSekar Governing body member delivered a talk about Thiruvathirai. He told that Lord shiva's birth star is Thiruvathirai Lord Narayana's Birth star is Thiruvathirai .
On Thiruvathirai Day the following sacred functions are celebrated.
Bhagavath Geetha Jayanthi
Avathar of Thathathraya swamigal
The marriage of lord shiva and parvathi.
Lord Shiva became Natarajar
The name Aruthra means Metal juice. Lord shiva danced in Chithambaram at Kanahasabai in the name of Natarajar.
Chenthanar, Lordsiva is devotee offered food to disciple of shiva daily. Only after that he used to eat seeing this lord shiva came as a person he got food from chenthanar. Chenthanar gave Ragimudde (kali).From that day onwards kali is given as prasadam on Thiruvathirai days.
Lord shiva prayed in the leaves of "vilva" This type of prayer is equal to "AswaMedhayagam".
Thiruvathirai (Arudhra) in Tamil means sacred big wave". Lord Shiva is praised in tamil by many names.One of them is Athiraiyar from Thiruvathirai(Thiru+ Athirai).
Smt.Muthumari HM thanked all. The meeting came to an end with the national Anthem.
Dr.J.C. Kumarappa's Birth Anniversary- 04.01.2023
Dr.J.C. Kumarappa's Birth Anniversary was celebrated in our Ashram on 4.1.2023. A special prayer was conducted in Gandhimandapam at 6.00am. After the prayer prof.Dr.R.Venkataswami Ayya President, GandhiNiketan Ashram delivered Special message through online.
Special Message by our Ashram President
In his talk, he told that Kumarappa was the Guruji as well as the father of our institution. He learnt the qualities of punctuality and austerity from his mother. He published many articles based on "Indian Economy". He took part in freedom movements after he met Gandhiji. When he stayed in our Ashram many great leaders like Vinobaji, RajendraPrasad, Jayaprakash Narayanan visited our Ashram. We should follow the great principles of Dr.J.C.Kumarappa. Dr.V.Ragupathi, Governing Body Member, Gandhi Niketan Ashram talked about "Economic Permanance".
Written by Dr.J.C.Kumarappa. Dr.J.C.Kumarappa was a Yogi. He was very much interested in Natural Agriculture. Teachers and students must read the books of by Dr.J.C.Kumarappa. That is the real tribute to him.
We all gathered in Shanthivanam at 9.00A.M. for Namasangeerthanam. Governing Body members Smt.P.Thilagavathi and Smt.V.Radha also participated in the Bhajan. After that we paid a floral tribute to Founder's samathi, Kumarappa's samathi and the statues of our Founder and Gandhiji.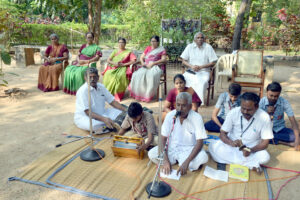 Bajan at santhivan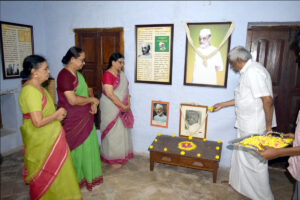 Floral tribute at Kumarappa kudil
Floral tribute at Kumarappa's samathi
The public meeting was conducted at 10.15 A.M in our Auditorium. Smt.Dr.V.Geetha Secretary Gandhi Niketan G.Venkatachalapathy Schools Welcomed all. Prof.Dr.PalaniDurai, Gandhigram, delivered special address through online. He talked about the moral values that are spread in this Institution.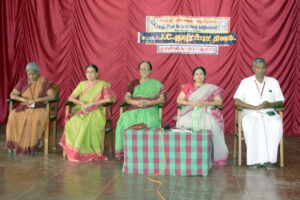 Guests on the daise
Nammalvar, the Natural Agriculturalist, adapted the methods of Dr.J.C.Kumarappa. Gandhiniketan Ashram also follows the same principle in Agriculture. Dr.Palanidurai asked the teachers to lead life for the society in a simple way.Teachers should work for the welfare of the students.Teachers and students are so blessed to be here. All of us must follow the principles of Gandhiji and J.C.Kumarappa.That is the real tribute to both the leaders.
Sri.P.Subburaj AHM thanked all. The meeting came to an end with the National Anthem.