GENESIS
When one travels from Madurai in Tamilnadu along the highway leading to Courtallam the famous waterfalls, what comes strikingly into view at the 40th kilometre is the Gandhi Niketan Ashram- one of the few surviving Gandhian Institutions in India, still vibrant with Gandhian thoughts and ideals.
Founder
On entering the campus of this institution located in a sprawling 40 acres of land one can feel the peace and tranquility that pervades the place.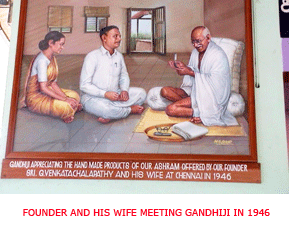 Gandhi Niketan Ashram which has a long history and rich tradition behind it is the brain child of a young man of 21 burning with the desire of helping to create an independent India and reconstructing Rural India as envisioned by Mahatma Gandhi.
This young man in question was the well known Gandhian and freedom fighter Mr.G.Venkatachalapathy whose chance encounter with the Mahatma was to change his life forever.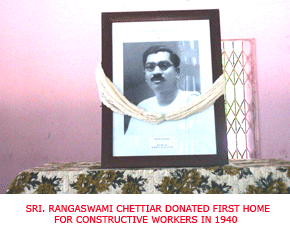 In 1930 at the age of twenty one, he had the golden opportunity of spending one evening and night with Mahatma Gandhi while touring Tamilnadu and under the Mahatma's magic spell he decided that his life's ambition would be to follow the Mahatma in thought, deed and action. Nothing else in the world mattered to him. The result was the founding of the Gandhi Niketan Ashram in 1940 by him with the sole aim of rural reconstruction and imparting basic education as spelt out by Mahatma Gandhi to rural children.

1941 1st Anniversary Founder lighting the lamp
After India attained independence in 1947, the Gandhi Niketan Ashram was involved in areas like community development, panchayati raj, and khadi and village industries. Development officials and activists from all over India were trained here to work at the grassroots. The Ashram also played a key role in the Bhoodan movement spearheaded by Acharya Vinoba Bhave.