The dairy development aims not only to improve nutrition of the both rural and urban by making a ready source of balanced nutrients. Dairy farming has been considered as a subsidiary occupation for the village farming community with a view to improve the potentialities in gainful employment and to ensure regular supplemental income.

For the welfare of the village students Dairy vocational group was started in our T. Kallupatti in 1978-79 This group help the students to create Self-employment. In our Gandhiniketan G.Venkatachalapathy Hr. Sec. School. In our Ashram we have Jersey & H.F breeds.Green fodders and roughage produced in our Agriculture land. Ingredients are bought from local market and we mix with equal proportion to prepare Concentrate feed. It helps to increase the quality of milk . They are two workers to maintain the cows. In 1985 qualified M.Sc. dairy science teacher was appointed for teaching dairying. Cleaning ,grooming and milk yielding are the duties done by the dairy science students They take cows to veterinary Hospital for A.I and Vaccination and other treatment.
Students cleaning the Cows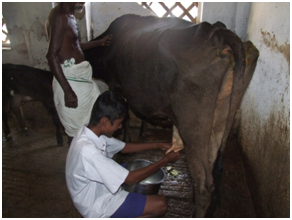 Collecting milk from the cow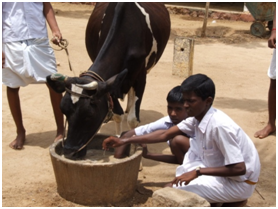 Students cleaning the milk shed
Every day students distribute the milk to the Ashram consumers , Hostel and others and maintain the accounts also. Cow dung is used for to preparing Gobar gas . This waste is used to produce Vermi compost .This Vermi compost is used in our Ashram land and also for sales. Students are directly participating in the fields for their practical periods. Many students have become Veterinary Doctors and self Employers in the previous years.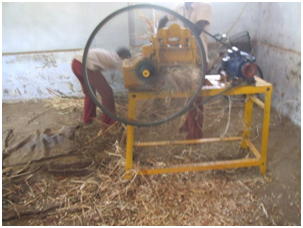 Our aim is to organize an ideal training ground in dairying for our students.