SMART CLASS at ourGandhiniketan G . Venkatachalapathy Primary School
Nowadays new methods of teaching have been introduced at worldwide. Emerging technologies also often appear in various ways to offer the opportunity to gain knowledge and closer to real life. Among those, virtual or smart class is important one. It uses instructional material, 3D animated modules and videos for concept teaching. But our smart class is totally different from its method and strategies. We have proposed to use modern technology and our traditional educational practices in the class.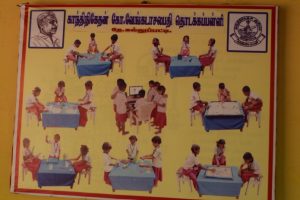 An entire depiction of smart class
Research shows that our indigenous knowledge system is functional. It was imparting knowledge and skills to improve our standards. With the coming of western education however our system was seen inadequate to contribute the modern world's demands.
Smart class provides the children, a completely different environment which makes them efficient not only by means of subject knowledge [Academic] but also practical knowledge according to the changing context.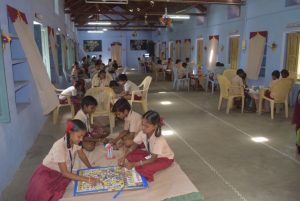 A picture showing children involved in different activities
Smart class has a separate class room. It consists of 11 activity domains which enhances the children's knowledge. Activities are planned in a way that the children can do either individual or in a group. The teacher guides the children if needed. Modern technology, our traditional educational practices and techniques are used in the class to enhance the children's education.
Objectives
Such a different kind of class room environment improves the following skills in children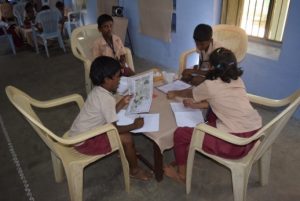 A group of children engaged in language games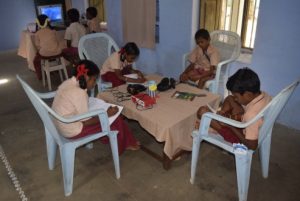 Children enjoying music and watching videos
It helps the children to develop life skills on their own
It enhances self – learning
It makes learning very interesting
It provides chance for the children to develop their individual talents
It increases the understanding capacity and makes the children smart in finding answers for question
It develops new skills naturally not in force
Soft skills emerges automatically
It stimulates children's thinking
It motivates children to find out new things
It develops children to use modern technology
It introduces indigenous techniques, strategies and knowledge
It creates leadership
Children can control themselves
It makes children to manage on their own.
It improve children's language and communicative skills
It enhances the skill of imagination and creativity
Every child can enjoy their childhood.
It imparts the skill of reasoning and logic
It creates team's spirit
It meets the challenges of teachers as well as students
It gives practical experience
Enjoyable learning will be held.
Pedagogy and benefits
Students participate and learn by doing only not rote copying and memorization. Students are fully engaged with activities. Teachers can get instant and accurate assessment of learning outcome. It has an overall positive impact on students more in terms of generating curiosity and grasping complex concepts. Students get maximum sensory experience. This makes learning an enjoyable experience for students while improving their overall academic performances in school. Critical thinking and active learning is ensured. Children are more flexible. The teacher team follows new techniques and strategies for increasing the students in learning something new. Activities are designed fully child centered or focused. Learning is happened with more fun and interesting.
Method of functioning
In the beginning of the class itself the students will be divided into 11 groups. After the class has started, each group will occupy on table and after 20 minutes every group will switch over tables and continue to do the activities.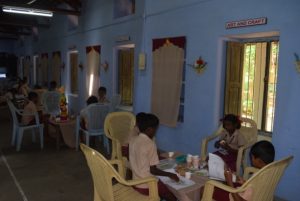 Children indulged in their creative work
Children doing amazing science experiments