The Gandhi niketan Ashram is a registered society under Tamil Nadu Societies registration act of the year 1956. But the institution was found in the year 1940 by G.Venkatachalapathy with the guidance of A Vaidyanatha Iyer of Madurai and N.M.R.Subbharaman who was called as Madurai Gandhi.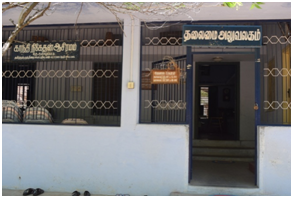 Manimandabam Ashram Head Office
Both of them were mentors to our founder N.M.R. Subbaraman was closely associated with the ashram activities for a number of years even after the demise of our founder.
The institution is governed by a managing committee consisting of members from various walks of life. All are honorary members. The managing committee consists of a President, Secretary and treasurer and 6 more members. The President, secretary and treasurer hold office for a period by 2 years and they are from the members of the ashram management. Every 2 years they are elected and there is no bar any members to hold office more than one term.
It has thrice main wings, namely Education, village industries and agriculture. On the education side the ashram runs two aided schools.
Gandhi Niketan G. Venkatachalapathy Hr Secondary School. This school has to 6 to 12th standards with Tamil as medium of instruction. It receives grant from the Tamilnadu government and has a strength of 1400 children both boys and girls.

Gandhi Niketan G. Venkatachalatpathy primary school. This receives grant for the teachers. It is a Tamil medium school and has a strength of 600-650 children in the role.

The village industries- production of Khadhi,Leather, Fancy good, Steel and Wooden furniture,making soap and other sanitary materials. It gives training to nearby village youth.

Agriculture using has nearly 25 acres of land. It gives an opportunity to expose the students to agriculture and the produce is partly sold and partly consumed in the ashram.
The training for various activities is from general donations from public and from the trust in the name of our founder KOVE (public) charitable trust placed in Chennai and run by the family members of our founder.