ABOUT THE FOUNDER
G. Venkatachalapathy – (1909-1969) who is regarded as "The Architect of Rural Development and Panchayati Raj Movement in Tamil Nadu" was a born sevak who was imprisoned by the British government in 1931 at the age of 29 and later in 1942 for his role in the Quit India movement. He was introduced to Gandhiji in 1931 by P.S.Kumarasamy Raja (Chief Minister of Tamil Nadu 1949-1952) as one of the youngest and promising constructive workers of Tamilnadu.
He began his career as a school teacher after he came out of the prison in 1931 which he pursued even as his activities in his native village, Gopinayakkanpatti, Madurai District in Tamil Nadu from 1931 to 1937 attracted national attention . He also had the distinction of being featured in Harijan, a weekly edited by Gandhiji. Eminent leaders like Shri.Rajendra Prasad, Shri. ThakarBapa and Shri.Rameshwari Nehru participated in the constructive programmes organized by him. In 1937 he was elected as the Vice President of Madurai District Board and in this capacity he introduced many innovative development initiatives in the field of education and rural upliftment through the district Board till his arrest in 1942.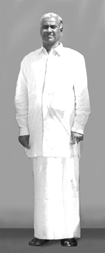 In 1940 he founded the Gandhi Niketan Ashram .with the two fold aim of working towards rural reconstruction and imparting basic education to rural children as spelt out by Mahatma Gandhi. In 1944 during a meeting G. Venkatachalapathy had with Gandhiji , Gandhiji advised him to concentrate on training young men and women in national and rural reconstruction. In 1944 Gandhiniketan launched a state level training programme for young freedom fighters in which eminent leaders of Tamilnadu were involved. In spite of the oppressive measures of British government, the Ashram continued its activities in rural reconstruction.
When India attained Independence, O.P. Ramasamy Reddiyar the then Chief Minister of Madras state invited him to head the rural reconstruction programme of the state government which was a singular honour. In the administrative history of India this was the first time that a constructive worker, was asked to head the Rural Development Department of a State as its Director .G.Venkatachalapathy went on and the post of Additional Development Commissioner and Additional Secretary to the Government of Tamil Nadu for seventeen long years.
From 1947 to 1964 Venkatachalapathy launched several innovative development initiatives for Rural Development in Tamil Nadu. The Firka Development Programme, a pioneering development model approved by Mahatma Gandhi, to bring about integrated rural development was implemented by him from 1946 to 1950. Subsequently he was instrumental in the passing of the Madras Village Panchayat Act of 1950. In 1958 he emerged as the moving spirit behind the Panchayat Act of 1958 which empowered the pachayats – clearly a landmark in the history of panchayat movement in India.
As Additional Development Commissioner for Rural development & panchayatraj
G.Venkatachalapathy also founded the Gram Rajyam Tamil Weekly in 1946 in what is considered one of the earliest attempts in Tamil Nadu to use the media for rural development. Yet another brainchild of his the Gandhi Niketan Village Industries Cooperative Society set up by him in 1944 to federate rural artisans for their economic empowerment which later emerged as a model cooperative in Tamil Nadu.
As the Secretary of the Gandhi works publication society he also played a major role in bringing out seventeen volumes of the collected works of Mahatma Gandhi in Tamil.
A great lover of Tamil who worked for its propagation, he was the first officer in the secretariat to use Tamil in the rural development department keeping the needs of the rural people in mind.
After leaving the Government of Tamil Nadu he was back to his ashram to devote his entire time guiding its activities till he breathed his last at the age of 60 in the year 1969.
It is indeed a tribute to the Indian ethos that a simple ,humble man who started his career as a school teacher with a sole aim of moulding young minds and involving them in the process of nation building eventually went on to become a great architect of rural Reconstruction.