Gandhiniketan Ashram in a 25 Acre Campus has a few landmarks remembering the Founder every.
1.The Arch at the entrance to the ashram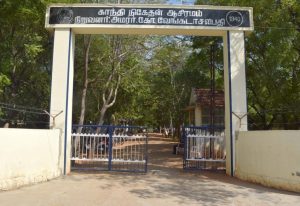 2.Gandhi Mandapam
This was originally built by the Founder in early 40s as a hall with a thatched roof in front of the first mud-wall structure built in 1940. A decade ago it has been renovated with a modern structure. It is the place for common prayer both in the morning and evening. It houses the statues of Mahatma Gandhi and our Founder G. Venkatachalapathy.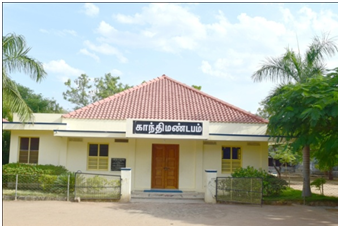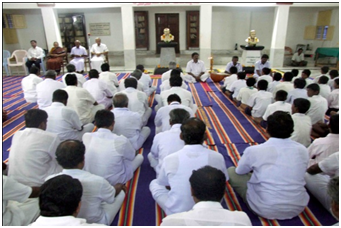 Gandhijis' statue is a unique one. It is one of two statues made by an Italian sculptor with Mahatmaji sitting before her for a few hours.It has the signature of Mahathma The statue has the ashes of Mahatma are buried beneath it. This was brought and installed by Dr.J.C.Kumarappa and unveiled by Babu Rajaendra Prasad the first President of India. The statue of the Founder was placed near his guru in 2005
3.Ko.Ve.Manimandapam
It is a memorial for the Founder who gave his life time for the rural poor. It is built at the site were the Founder build the first mudwall structure in 1940. He lived his last five years in that building. Now it houses S.Anantharamakrishanan Centenary children' library. We propose to organise an exhibition depicting the life of Founder and the history of the Ashram.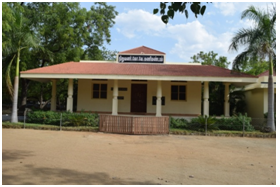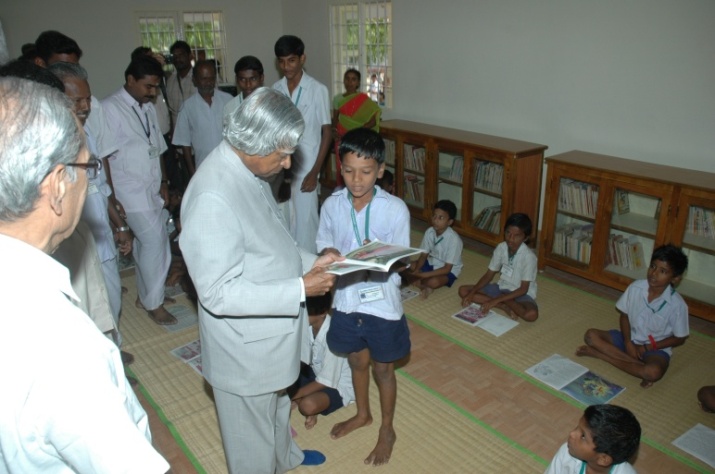 Dr.Kalam at our Manimandabam(Childrens Library)
4.Shantivan
It is one of the best spots with a serine and scenic atmosphere in the campus. It houses Founder' Samati, Kumarappa Kudil where he lived his last five years and his Samadhi. We propose to convert this Kudil into his memorial housing his collection of books and photographs of his life.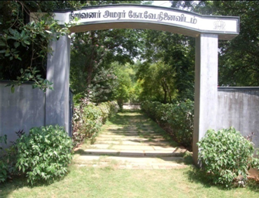 Entrance to Founder Samathi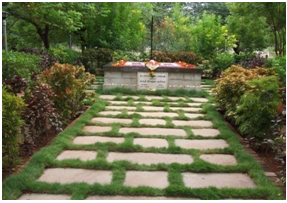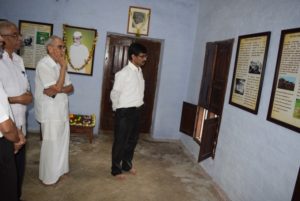 Mr.V.Irayanbu IAS Inspecting the Kumarappa Memorial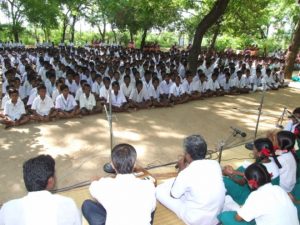 Shantivan is a large area which is used for common prayers and Bajans
5.Centenary Library
This was built and declared open in 2009 by our Former President A.B.J.Abdul Kalam. It is a simple, elegant, user friendly structure which is meant for the staff of the schools, ashram and high school students.
6.Silver Jubilee memorial
This is a small beautiful area housing two tall granite pillars – one for the silver jubilee of our independence and another for honouring freedom fighters from the local area. It honors our Founder and other associates of the Ashram.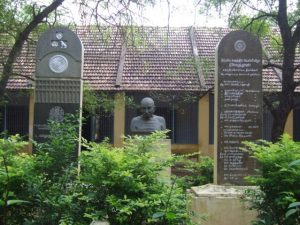 7.School Auditorium
This is a simple and well lit auditorium which can accommodate 1500 students and staff. All the major functions are held here. Major contribution was from Mr T R Dhinkaran and his brothers of Jaya vilas transports, Aruppukottai.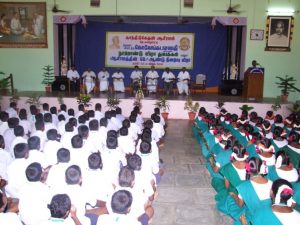 8.The very first brick and mortor building at the ashram called ooliar illam
This was built at a cost of Rs. 1000/ donated by Mr.Rangasamy chettiar of Bodi.
9.A vast modern building housing spacious 18 class rooms name after Swami Vivekananda block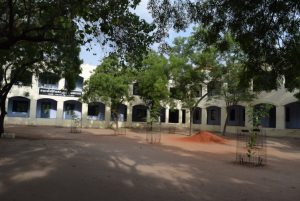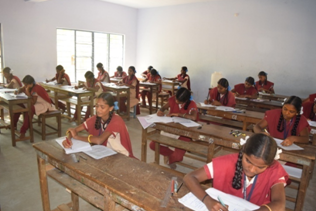 10.The primary health center
At T.Kallupatti is named after our founder as the land belongs to our ashram. To acknowledge that gesture the government named the primary health center in the name of our founder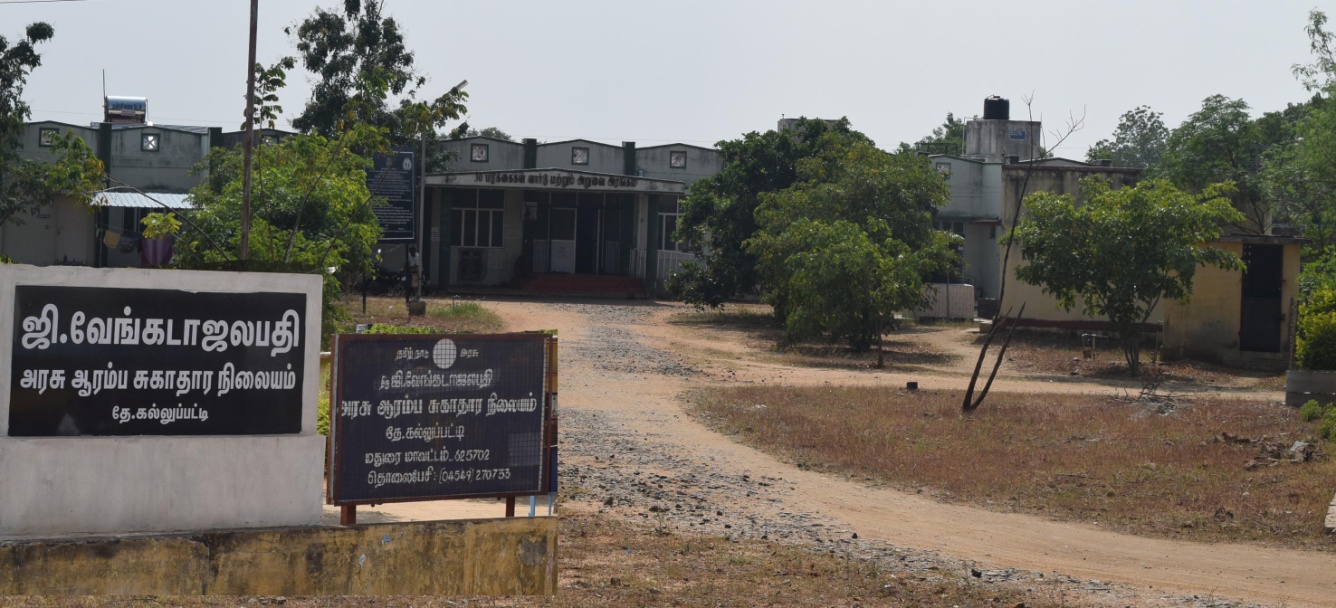 11.Both of our schools have been named after our founder during centenary celebrations of our founder in the year 2009
GandhiniketanG.VenkatachalapathiPrimary School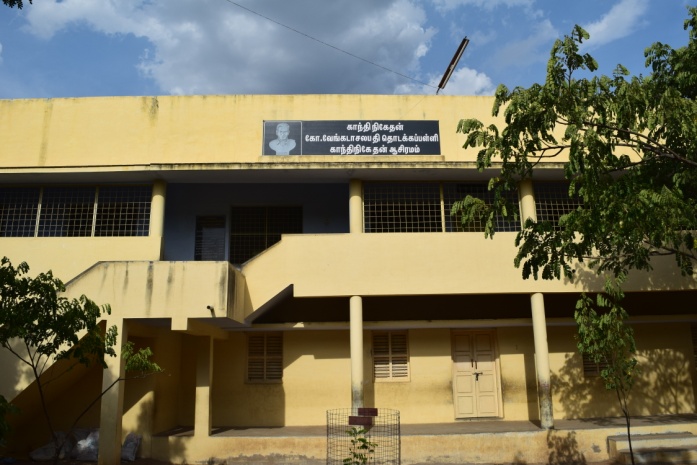 12.Gandhiniketan G.Venkatachalapathi Hr.Sec.School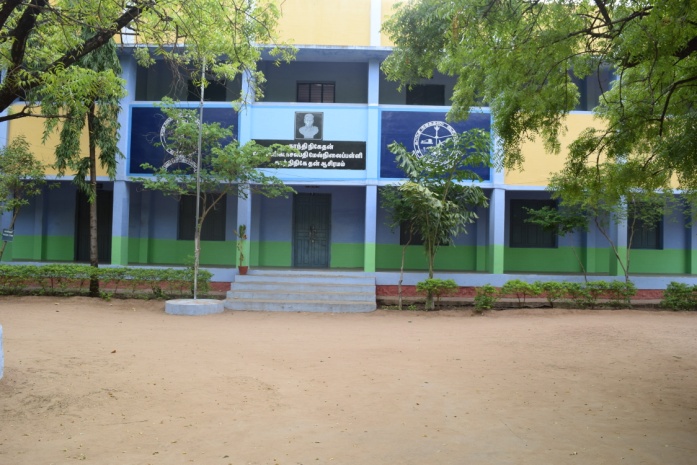 13.Founder's Statue