FOUNDER – a short life sketch
G. Venkatachalapathy – (1909-1969) who is regarded as "The Architect of Rural Development and Panchayati Raj Movement in Tamil Nadu" was a born sevak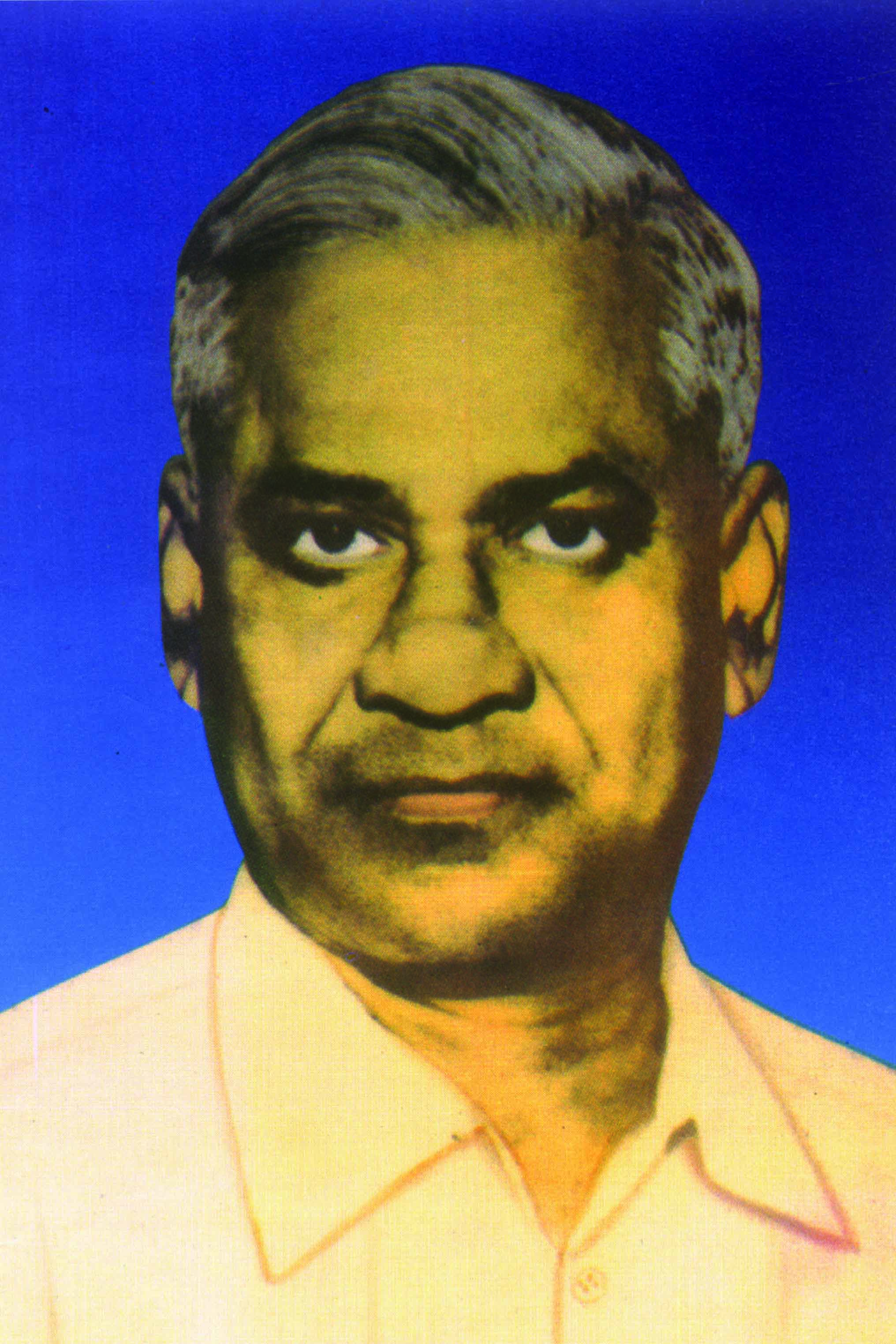 He was a man of great simplicity and was a true Gandhian both in letter and spirit. His whole life was spent for the upliftment of the rural community particularly the downtrodden and the marginalized poor. His passion and vision for the emancipation for the rural India from the clutches of poverty and illitracy were remarkable.
He was born on July 30th, 1909 at Alangulam near sivakasi. His father was Thiru.Gopalsami Naicker and his mother was Krishnammal. He was the eldest son. He had two brothers.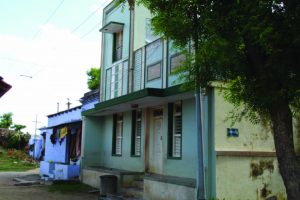 Gopalswamy Hill Temple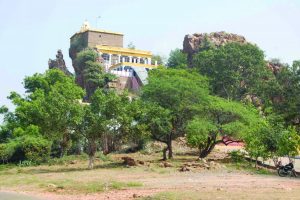 Our Founder's Home at Gopinayakkanpatti
Our founder in his early days used to visit nearby Gopalaswami Temple quite frequently. It is a hill temple and being a vaishnavite , he was greatly attached to this temple. He used to have spiritual retreats here. He used to spend time in meditation and observe fasting. This continued in his later days also.
He finished his primary education at Muruganeri near Gopinayakanpatti. He continued his secondary education in Sivakasi and showed his interest not only in text book learning but also in spiritual and national issues. During the period he was at Sivakasi, he came into contact with Sri Narayanasami Nadar and Sri kalpoth Meenakshisundaram pillai from Colombo.
As a small boy with Mr.Nadar and MrPillai at Sivakasi
They instilled in him the value of spiritual life and nationalism. The young boy could absorb them very well. He was in contact with Narayanasami Nadar during his later life and helped his family after Nadar's demise.He joined National college, at Trichy for his college studies. He used to visit Sri Rangananthan temple at Srirangam regularly every week.
It is in his college days he developed debating skills and develoed contact with Dr. TSS Rajan a freedom fighter and a national leader from tamil Nadu. Dr Rajan was the initial political Guru for our founder.
He failed in intermediate examination and came back to his village. It is here he translated his vision of free India by establishing a village development association in 1930. This was a training ground for planning village development activities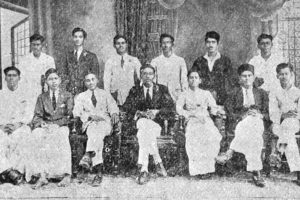 As a College Student (2nd Row From Left)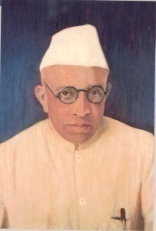 Dr.T.S.S.Rajan
(Founder's Mentor)

In the year when he was 25 years old he had the unique opportunity of spending a day with mahatma when he was touring Tamilnadu, on the way to Virudhunagar from Rajapalayam at Soolakkarai Medu.
Our founder gave the prayer song for the evening prayer of Mahatma and had the opportunity to serve him fruits for his evening meal. It was indeed a memorable event in his life.
Our founder as a young congress man with Mahathma
During this period he involved himself in the political struggle very actively and this brought him to Trichy Jail in the year 1931. In the jail he had come into intimate contact with the leading political figures of that period like Rajaji, O.P. Ramasami reddiar. Kumarasami Raja, Vaidyanatha Iyer, Kamaraj.and others.The turning point of his life in the jail was his meeting with a life term convict Mr. Dutt. It was he who told him that it was his teacher who inspired him to join the national freedom struggle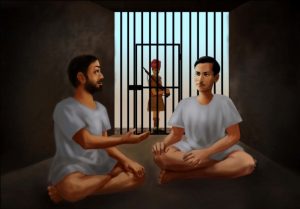 Founder at Trichy Jail with Mr.Dutt
As a teacher one can inspire hundreds of his pupils to join the freedom struggle. That day he decided to become a qualified teacher that led him to join teacher training school at Pasumalai near Madurai. This was a blessing when he came under the spell of Rev. Loll Beer who was the principal of the training school. It was he who showed him the path of service to the poor. Founder joined him in all his village service activities. When he came out of the training school he rejoined his village school and it was here he experimented several path breaking reforms along with his colleagues and students.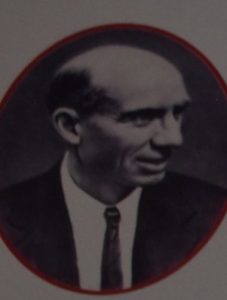 Rev.Loll Beer
Jesu Christ – Gift from Loll BeerH
Sri Valliappanadar Chathriya VidyaSalai Gopinayakkanpatti
He drew a scheme for a period of five years which he called as five year plan for village service activities. He went to the nearby villages along with students and teachers for serving the people. He insisted that the students to show interest not only in studies but also in co-curricular activities. From these activities students can develop the qualities of Co-operation, Leadership and Mutual understanding. He showed the way to eradicate untouchabiliy by staying with the Harijan boys in their hostel. He also had the distinction of being featured in Harijan, a weekly edited by Gandhiji for his commendable work.
After three years in this school the nation called him to direct political activity which made him a member of Madurai district board from T. Kallupatti area in the year 1937. He was elected unanimously as vice president of Madurai district board. In this capacity he introduced many innovative development initiatives in the field of education and rural upliftment through the district Board.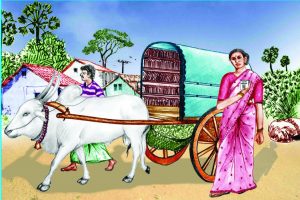 Mobile Library of Smt.Venkatalakshmi,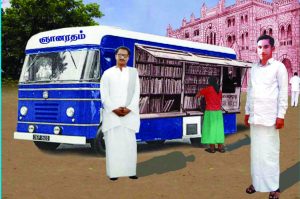 Founder with his 'Gnanaratham'
He worked for the integrated rural development during his tenure. He collected all the petitions and took necessary actions immediately in person. He initiated many schools in many villages. "Gnana Ratham" (Wisdom car) a mobile library originally invented by a village woman was inaugurated by our founder in Madurai District.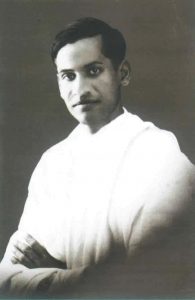 District Board Vice President