AWARDS AND RECOGNITIONS
The activities of the ashram have been appreciated by different sections of the society.
The Ashram has received following awards:
Jamnalal Bajaj award for its work in Rural Reconstruction, 1980.
Malcom Adiseshiah award for promoting Rural literacy 1991.
Indian Chamber of Commerce award for Rural development 1993.
Intermediate Technology Development Group, London grant for the promotion of appropriate technology, 1976.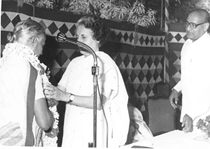 Prime Minister Mrs. Indira Gandhi
felicitates Mrs.Meenakshi Ammal
Chairperson of the Ashram (1980).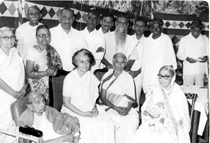 The leading personalities of the
Ashram standing behind
Vice President of India Shankar Dayal
Sharma gives the national award to
Dr.D. Paulraj our Secretary
President Sanjeevi Reddy giving award to
the then President Sri. Muniyandi
Sri Sankardayal Sharma giving award to
Sri. Guruswamy, the then Secretary to the
Ashram
ASHRAM TEACHERS RECOGNIZED WITH BEST TEACHER – STATE AWARDS BY
GOVT. OF TAMILNADU
Sri G. Muthramalingam, PG Chemistry Teacher receiving the Dr. Radhakrishnan Award
from the Hon. Finance Minister Prof. K. Anbalagan for 2006-07
Sri G. Muthramalingam, PG Chemistry Teacher receiving the Excellent Teacher
Award from Tamilnadu Education Research and Development Organization on 15-9-07
Smt R. Rajeswari, Headmistress receiving Dr. Radhakrishnan Award for 2003-04