FRIENDS AND VISITORS
Several great national leaders had visited the Ashram and leaders like Rajaji, Rajendra Prasad, Acharya Vinoba Bhave, Jayaprakash Narayan, Thakar Bapa were closely associated with the Ashram.
O.P.Ramasamy Reddiyar, P.S. Kumaraswami Raja, K.Kamaraj, and M. Bhakthavatsalam the then Chief Ministers of Tamil Nadu supported all the founder's initiatives for translating the Gram Swaraj in to a reality.
Overseas visitors included Dr.Martin Luther King, the Nobel laureate and Civil rights leader of America who visited the founder at Madras twice and got a first hand account of the experiences of Venkatachalapathy in organizing Satyagraha and constructive programmes. Schumacher, one of the founders of the Green Movement in the west and renowned author of the book "Small is Beautiful" visited the Ashram in 1962 and obtained valubable insights into the areas of appropriate technology of benefit to the the rural poor.
Pandit Nehru visiting the Ashram
Exhibition at Madurai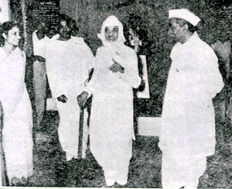 President Rajendra Prasad
in the Ashram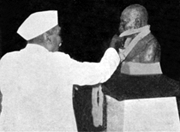 President Rajendra Prasad unveiling
the statue of Mahatma Gandhi
Governor Sri. Prakasa, K. Kamaraj,
M. Bhaktavachalam in the Ashram
Kamarajar addressing a gathering at
the Ashram
Dr. Soundaram Ramachandran
(second from left)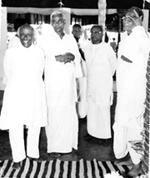 Jayaprakash Narayan (Ext. Right)
At the silver jubilee celebration 1965
Gandhian Economist J.C.Kumarappan
lived in the Ashram for 5 years

Former Presidents of India V.V.Giri and R.Venkatraman visited and supported the Ashram on different occasions.
J.C.Kumarappa, the eminent Gandhian economist settled at Gandhiniketan at the invitation of the Founder in 1954 and guided the activities of the Ashram till his death in 1960. He became the first Chairman of the Ashram Committee when the Ashram was registered in 1956. The Ashram considered its association with him as a sacred one and his hut in the ashram remains a sacred spot.
Dr.T. S. S. Rajan of Tiruchirapalli who initiated the Founder into the freedom struggle as a student of National College, Trichy laid the foundation for the ashram. Sri.Vaidyanathair, the architect of the temple entry movement in Tamil Nadu and N.M.R..Subaraman were the first trustees of the Ashram with the Founder as its Secretary.
The late T.S. Avinashalingam, renowned educationalist and an architect of several educational institutions was of great support to the Founder and the activities of Ashram.
Similarly G.Ramachandran and Soundaram Ramachandran provided Valuable guidance – what's more it was G.Ramachandran who suggested to the Founder the name of Gandhi Niketan for the Ashram.