MARTYRS' DAY FUNCTION
Mahatma Gandhiji's death anniversary was observed as martyrs' day on 30th January 2008. A special prayer was conducted at 6.00 a.m in Gandhi Mandapam. Local teachers, Ashram workers and hostel students attended the prayer.
The day was also observed as 'Sarvodaya Day' and a day long spinning activity, from morning six to evening six, was continued in the mandapam. A special meeting began with the community prayer at 9.00 am in the auditorium. Students and teachers from Kallupatti Government HSS, Peraiyur Girls HSS and Pappunaikanpatti HSS also attended the meeting. Headmistress Mrs.Rajeswari, in her welcome address spoke about the importance of the day.
Thiru. Irai Anbu I.A.S. from Chennai delivered his special address, through phone. In his speech he emphasised how virtues like love and prayer became a way of Gandhiji's life. He explained and differentiated how love begets happiness and good fortune whereas hatred will create only anger and misfortune, which may ultimately lead to great loss. So, we should realise Gandhiji's principle that 'God is Love'
Ashram President Prof. Venkataswami also delivered his massage over the phone. He advised the students to follow the Gandhian principles in their life and accept Khadhi as their daily uniform, as khadhi stood first in Gandhiji's constructive programmes.
SCIENCE CLUB MEETING – GANDHI NIKETAN HIGHER SECONDARY SCHOOL
The Science Club meeting was conducted in a grand manner on 28th January 2008. The Programme was started by the prayer song by the students and inaugural speech was given by Mr. T. Rajkumar under the leadership of the Headmistress Mrs. R. Rajeswari.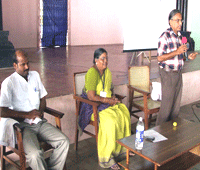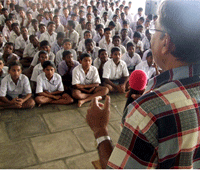 The chief guest was Prof. P. Rajamanickam, M.Sc., M.Phil., Dept. of Zoology, Sarawathi Narayanan College, Madurai. He spoke on the topic "International Global Year – 2008 and Global Awareness". CDs of Tsunami of Dec. 26th 2004 was shown to the students to create awareness about the nature's fury. The other chief guest Mr. R. Kasipandiyan M.Sc., M.Phil., B.Ed., Educational Instructor, Thirumangalam, spoke on "World's Greatest Scientist". Vote of thanks was given by Mr.R.Selvakumar.
REPUBLIC DAY CELEBRATIONS
Our 59th Republic Day was celebrated enthusiastically with patriotic fervour , on 26th January 2008. Ashram Secretary Dr. V. Ragupathy hoisted our national flag at 8.45 am and in his flag-hoisting message, he appealed to the students to serve their parents, village and there by our mother land. Our aspiration should be to make our country a well developed and prosperous one before 2020.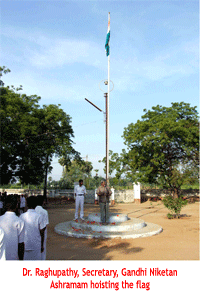 To commemorate the event, there was a procession through T.Kallupatti main streets, in which all the higher secondary students, teachers and trainees participated spreading the message of the day with their slogans.
Republic Day meeting was conducted in the auditorium at 10. a.m. Kumarappa vidyalaya principal Thiru.R.Rajendran presided over the function. Headmistress Mrs.R.Rajeswari gave the welcome address. Thiru.Rajendran, in his presidential address vividly explained how India has developed her economy through out these years.
Our Assistant Headmaster Thiru R.K.Balasubramanian, in his special address, listed the functions of Republic India, Methods of elections and the duties of village panchayats and Unions. Primary and Higher Secondary School students staged cultural programmes like Kummi, Kolattam and Rural folk dance. Thiru M. Palanichamy proposed vote of thanks. The function came to an end with the singing of the National Anthem.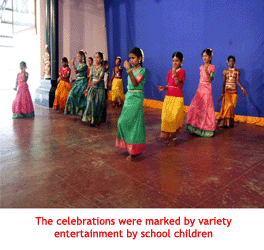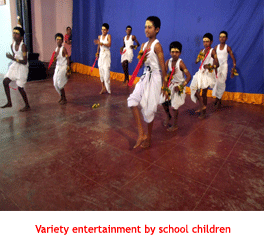 DR. J.C.KUMARAPPA'S BIRTH ANNIVERSARY CELEBRATIONS
Dr.J.C.Kumarappa's birth anniversary was celebrated in a grand manner on 4th January 2008. There was a special prayer in the Gandhi mandapam in which local Ashram workers, students and trainees participated. Ashram President Prof. R. Venkataswami gave a special message at the end of the prayer, in which he high lighted Kumarappa's simplicity and service to the society. Retired headmaster Thiru.S.P.Ramasamy also recollected his association with Dr. Kumarappa, when he was a student in Gandhi Niketan Ashram.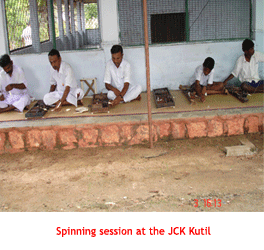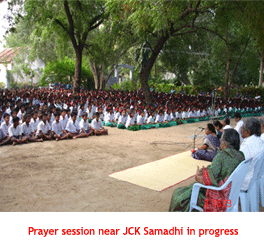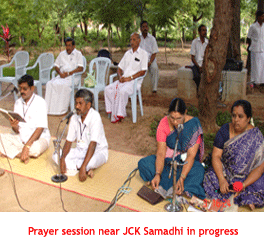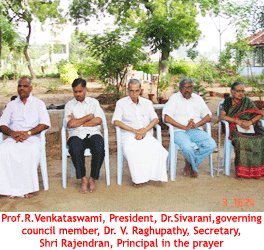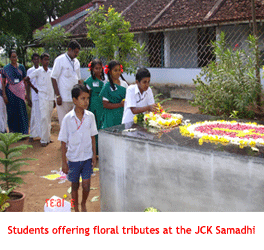 There was a community prayer in Kumarappa Memorial Cottage at 8.30 a.m, in which all the members of Ashram participated. Floral tributes were offered to Kumarappa.
Then a special meeting was conducted in the auditorium. Thiru.M.P.Gurusamy, an eminent Gandhian delivered a speech on 'Kumarappa' . Being a reputed economic scholar, he enumerated various types of economy and how Kumarappa employed the right economic system to suit our Indian society. He also described various aspects of Kumarappa's virtues like punctuality, simplicity, honesty, reverence to Gandhiji and devotion to our nation. He inspired and enthused the audience with his excellent speech. The meeting ended with the National Anthem.
2008 Events