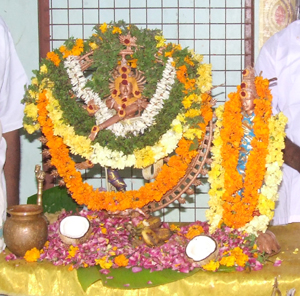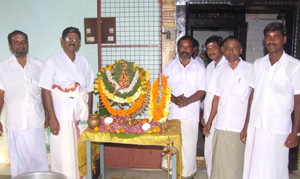 Thiruvathirai Festival Celebrated at Ashram Vinayagar kovil on 01.01.2010
Thiruvathirai festival was celebrated on 01.01.10 with religious fervour. It was an auspicious occasion to offer our prayers and receive the blessings and boons from lord Siva. After early morning margazhi Bajan, ashramities and hostel students assembled in the Vinayagar temple. The idols of lord Natarajar and Sivakami amman were kept ready for special pooja. Seven Abisegams were performed and the whole congregation was thrilled and delighted to watch the wonderful sight. Then special Arathana followed it with different types of deepas. All were mesmerised and felt as if the Omnipresent has sent a divine light directly in to their hearts.Mr.N.Ramanisekar along with a priest conducted the ceremony finally 'Kazhi' prasatham was distributed to the devotees, as the saying goes "Thiruvathiraiku oru vai Kazhi"
Dr.J.C.Kumarappa Day-4.1.2010
119th birth anniversary of Dr.J.C.Kumarappa was celebrated on 04.01.2010. A special prayer was conducted in the Gandhi Mandapam at 6.00 am. All the Ashramites attended the prayer which was followed by floral offerings in kumarappa's Samathi.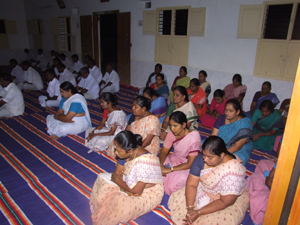 Kumarappa day Morning prayer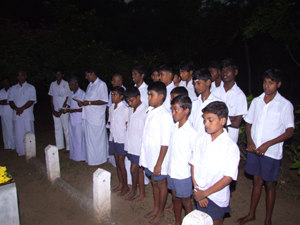 Prayer at samathi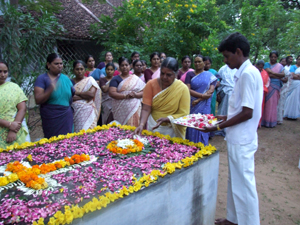 Floral tributes
Later, in the evening by 3.00 pm a special meeting was held in the auditorium. Members from all units of Ashram, Primary school teachers, Higher Secondary teachers along with students and trainees attended the meeting. Thiru.R.Rajendran, Principal, Kumarappa Vidyalayam, elaborately described how a stylish young man in European attire and western way of life, dramatically transformed himself to lead a simple life, wearing Thothijama and Kurtha with Kadhi cap. Kumarappa was a strict disciplinarian and he was very punctual. Being a great economist he never let any money go unaccounted. So Gandhi trusted him and assigned him a good deal of financial matters. Dr.J.C.Kumarappa devoted his golden time to our Ashram and it was he who registered the Ashram, planned good roads and invited our first President Dr.Rajendra Prasath to this holy place.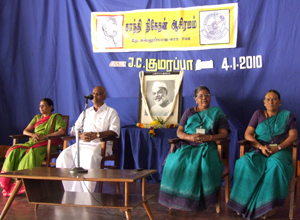 Thiru R.Rajendran -Principal Dr.J.C.K.I.R.T.D delivering a talk on Kumarappa
Kumarappa spent his last five years in our Ashram. His dedication and devotion was greatly hailed by naming our Rural Technology centre after him. The meeting ended with national anthem by 4.15 pm.
Parent Teachers' Meeting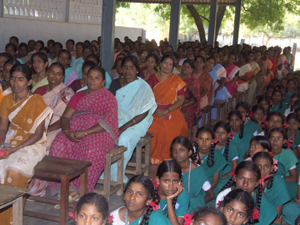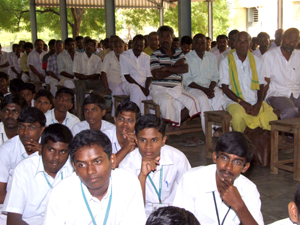 Parent Teachers' meetings were conducted on 07.1.2010,11.01.2010 and 12.01.2010 separately for X,XII students, IX,XI students and VI,VII,VIII students. Almost all the parents attended the meeting. Headmistress Mrs.R.Rajeswari after welcoming the parents elaborately explained the functioning of our school and its infrastructure. She appealed to the parents to meet their wards teachers at least once in a month to know about their academic and other activities. parents should join hands with the teachers in moulding the lives of our future generation. Good habits must be cultivated and nurtured at an young age. Parents were given enough time to meet the concerned teachers and discuss about their wards' performances. Assistant Headmistress Mrs.P.Thilagavathi in her vote of thanks requested the parents to devote at least a few hours a day to their children and enquire about the happenings in the school. This will encourage and motivate the students to perform well in the school . Parents are not only good models but also good stimulants. As teachers, parents also a philosopher to their children. There was good response from the parents.
Visitor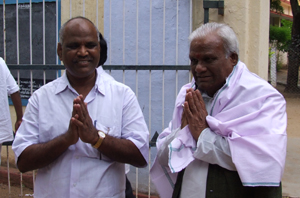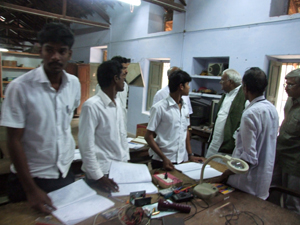 Mr.Kalappa member form Southern region Khadi and Village Industries Visited our Ashram
to Assess the nature of work
Thai- Mattu Pongal 15.01.2010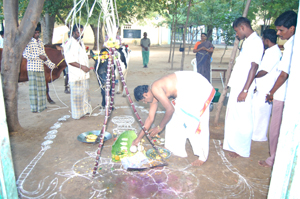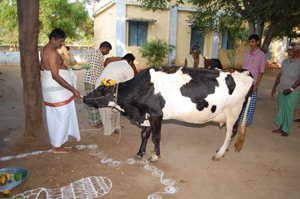 Mattu pongal was celebrated in a traditional manner. All the cattle were washed well and decorated with flowers, sandal paste and Kunkumam. Sweet Pongal was prepared in the Dairy Farm After simple prayer pongal was distributed to the students and teachers. Sugarcane was also given to the students and cattle. Earlier dairy farm building was white washed and decorated for the festival.
Solar Eclipse
Solar eclipse-Amazing view
January 15th of 2010 at about 1.00pm a golden ring of fire appeared in the sky. It was really an
amazing sight.
The atmosphere of the sun has three layers
Photosphere
Chromosphere
Corona
Here the photosphere means the visible surface of the sun.
It was a spectacular sight, when the photosphere of the sun was covered by the moon, farming a ring of fire in the sky for about 11 minutes and 8 seconds from 1.10 to 1.21pm on that day.
During the annular solar eclipse the sun appears as a very bright annulus, which in Latin means Ring, surrounding the outline of the moon.
What is an eclipse?
When the Sun, Moon and the Earth are aligned with the moon in the middle, as it happens on a new moon day, a solar eclipse can take place. However, due to the tilt of the moon's orbit with the ecliptic, we do not see a solar eclipse taking place on every new moon. The moon Shadowed usually passes above or below the earth. There are only a few occasions when sun, moon and earth are exactly aligned and the moon's shadow falls on some parts of the earth. People located in such areas can see "eclipsed" sun.
Solar eclipse captured by our camera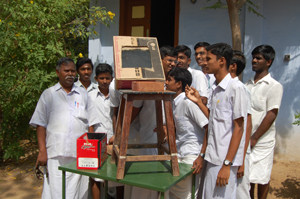 Stuents view the solar eclipse through the shadowed mirror
Generally there are 3 types of eclipses
Total solar eclipse- The sun's disc is fully covered by the moon.
Partial Solar eclipse- The sun's disc is not fully covered by the moon
Annular Solar eclipse- Due to elliptical orbit of the moon in some time the size of the moon is little bit smaller than the size of sun. In that time if sun, moon and earth comes in a straight line, occasionally the lunar disc is not fully able to cover the solar disc and a bright ring around the moon can be seen resembling a bangle. Such an eclipse is called annular eclipse.
"So an annular eclipse occurs when the sun and the moon are exactly in line, but the apparent size of the moon is smaller than that of the sun. Hence the sun appears as a very bright ring or annulus, surrounding the outline of the moon".
SPORTS DAY-January 2010
Annual sports day of our Higher Secondary and Primary schools was celebrated on 20.01.2010 in a grand manner. Elaborate arrangements were made the previous day itself to make the function a grand success. All the teachers and students assembled in the school ground exactly in time and our Chief guests also arrived on time. The celebrations started with " Tamil Thai Vazhthu" at 8.30 am.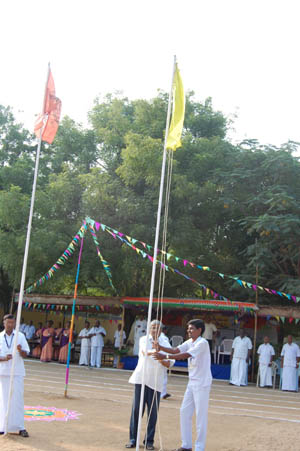 Ashram secretary Dr.V.Ragupathy hoisting the
School flag
Madurai district RIP hoisting the olympic flag
Thiru R.Nagarajan, Secretary, Gandhi Niketan G.Venkatachalapathy schools welcomed the chief guests and others. Four flags were hoisted to mark the inaugural ceremony. Thiru.S.Balasubramanian DSP, Peraiyur hoisted the National flag and later on accepted the march past honour and declared open the celebration. Thiru.Mannan Mohamed, RIP, Madurai hoisted the Olympic flag. our Ashram flag was hoisted by Thiru.Karumalayan president T.Kallupatti. Our school flag was hoisted by our Ashram Secretary Prof.V.Ragupathy.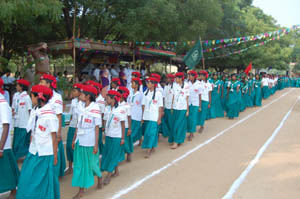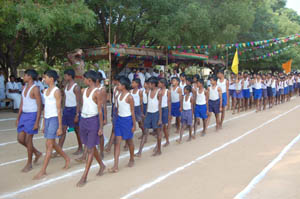 Peraiyur DSP Thiru S.Balasubramaniam accepting the march past salute
March past by various groups of students, in their colourful khadi uniform, NCC, NGC, JRC, Scout and Guides uniforms, was fascinating. It reflected order and perfection.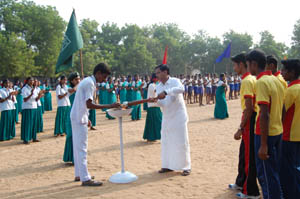 School secretary Thiru R.Nagarajan lighting the
olympic torch
High Jump attempt by a student
Olympic Torch was carried from Gandhi Mandapam to our school ground by our players, guarded by the pilots in bikes. It was lit by our schools' secretary Thiru.R.Nagarajan. Olympic oath was taken and the events started.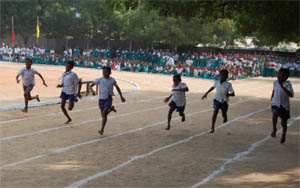 Students in running race
Sack race by primary students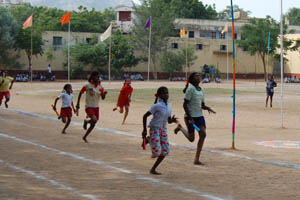 Girls in running race
Nearly 1200 competitors participated in all track and field events. Excited spectators encouraged the players with their applauses and appeals. It was very thrilling to watch the boys and girls clear the distance in seconds in 100 mt dashes. Spectators were wonder struck to watch ' the Throws and Jumps' events. The most interesting and attractive events were the competitions held for the primary children. Tiny tots' three legged race, walking with lemon in spoon and 100 mt dash, attracted the attention of all the spectators and everyone was thrilled by their performance.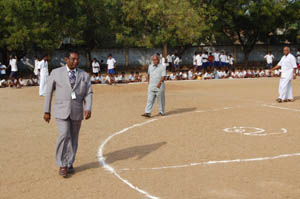 Lucky corner for VIP's
Pyramid by students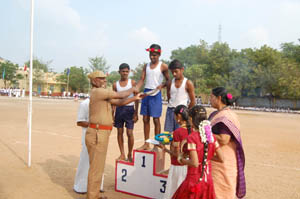 DSP Distributing the prizes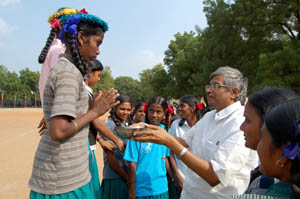 Prize distribution by our Ashram secretary
After an hour's lunch break after-noon programme started. Eight relays were conducted both for girls and boys. A large number of students participated in the " Open to all " 1500 mts race and the first two places were snatched by our students whereas the third place went to an outsider.
Teachers were divided into four groups according to their age and sex. 'Fast Walking' competition was conducted for them. Students enjoyed them very much and encouraged their beloved teachers to walk fast and come first. Lucky corner game was for the VIPs and our Ashram Secretary and School Secretary won the first two places. Lazim, Asanas , pyramids and gymnastics by our students were the additional attraction of our sports day.
Winners were honoured then and there, on the victory stand, with prizes and certificates by the VIPs and teachers. Valedictory function of the sports day was celebrated in the auditorium. Ashram Secretary Prof.V.Ragupathy presided over the function. After welcome address by the schools secretary, Thiru.R.Nagarajan, he emphasized the role of sports and games to lead a healthy life. He pointed out why our Ashram president Prof.R.Venkataswamy was very keen in conducting stretching exercises to our students daily.
Thiru.V.Kandasamy, Physical Director, presented the annual report. He hilariously announced how our students were able to enter the state level competitions in swimming and Kho-Kho, in spite of their rural back – ground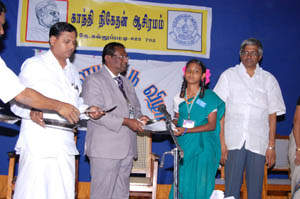 Prof.P.Rangan Principal Yadava men's College
distributing the prizes
VIP's on the dais
Prof.P.Rangan-Principal, Yadhava Men's college-Madurai was the chief guest in the valedictory function. In his special address he appreciated the students' achievements in games and sports. He extended an invitation to our PETs and students to visit their college and perform their Asanas, gymnastics and pyramids there to kindle an interest in their college students. Prof.Rangan distributed the champion cups to the champions and prizes to the victorious teachers, VIPs and state level players.
Mrs.R.Rajeswari-HM, GNGVHSS in her vote of thanks, thanked every one especially our management for their kind help and guidance, our chief guests, public, local administrative officers, teachers, students and every one who extended their help in making the sports day a grand success. Prof.Rangan declared the closing of the sports day events.
As all the teachers from both the schools, involved themselves with dedication and enthusiasm, through out the day and carried out the duties assigned to them earnestly, there was perfection and enjoyment every where. The day marked gay and gaiety and it would be a sweet memory in the hearts and minds of our students for ever.
REPUBLIC DAY 26.01.2010
61st Republic day was celebrated in our Ashram on 26.01.2010 with great enthusiasm and patriotic fervour. All students, staff, trainees and Ashram workers assembled in Dr.Babu Rajendra Prasath square for flag – hoisting of the special occasion. Ms.V.Radha, Administrative officer of our Primary and Higher Secondary schools hoisted the majestic National flag. In her special message she advised the students to be duty conscious first and then demand their rights. She also appealed to the staff to carry out their duty with devotion and dedication and be loyal to the institution. She recollected how our great leaders struggled hard to get this freedom and it is our duty to safeguard this hard – won independence.
Republic day flag hoisting
Schools Administrative Officer Mrs.V.Radha
Delivering the flag hoisting speech