01.04.2011-Dr.J.C.Kumarappa Birthday Celebration
Dr J C Kumarappa's birthday celebrations was held on 4th January. The day started with a special prayer at 6.00 am at Gandhimandapam. The staff of the schools and ashram along with hostel students participated in the prayer. Following the prayer Mr R Rajendran, former principal of Dr J C Kumarappa Institute of Rural Technology and Development gave a special talk on the life of Dr JC Kumarrapa.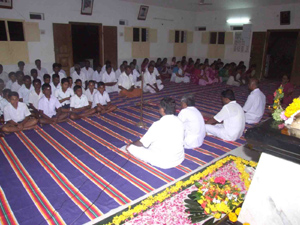 At Gandhimandabam
He narrated his life from his origin at Tanjore to his final days at Gandhiniketan Ashram. Dr Kumarrapa was born in a pious Christian family and the father sent him for higher education to London where he acquired qualification in Chartered accountancy. He took to the western life in right earnest and he went for further studies to United States of America. There at the university of Ohio he wrote a thesis of the poverty that existed in Bombay and the conclusions he drew were quiet revealing to himself. He found that the British were draining all the wealth from India. In one of his talks on poverty in USA at a local church greatly impressed the people in United States. His own professor invited him to his department and asked him to pursue his further studies.. His brilliance in understanding and explaining the various aspects of economics prevailing at that time was well appreciated. He came to Mumbai and started practisiting his chartered accountancy. He wanted to publish his paper on poverty in India. In that connection Mahatma Gandhi's name was mentioned to him by a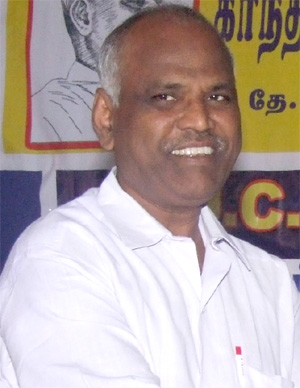 friend which immediately prompted him to go and see Mahatama Gandhi.When he went to impressed by his simplicity from that day he left his western dress and , changed himself to ordinary Indian dress and started working with Mahatama he become an exponent of Gandhian economics. His powerful writings against the British in Young India of which he was an editor for sometime when Gandhi was in jail invited the wrath of the British and he was imprisoned thrice, during freedom struggle.
Mr R.Rajendran appealed to the ashram workers to follow the path of Dr JC Kumarappa in his simplicity, and transparency. With that the morning function was over.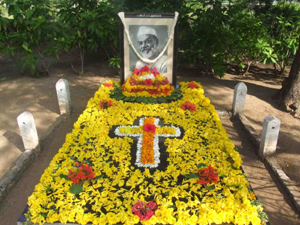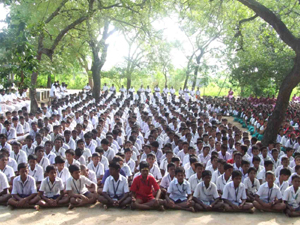 Bajan at Kumarappa Samathi
At 9.00 am the ashram community to moved to shantivan to pay floral tributes to Dr JC Kumarappa at his samadhi. This was preceded by an inter religious bhajan by our staff. At the same time relay spinning was started by the staff of the DR JC Kumarrappa institute at Kumarappa Kutil Thereafter the community assembled at the auditorium at 10.00 am for the public celebrations.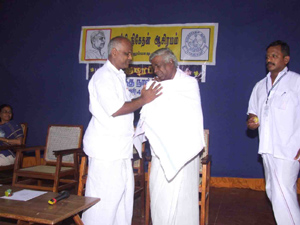 Mr.R.Rajendran honouring Mr.Jayaprakash
Mr Jayaprakash, another gandhian constructive worker was the guest speaker. In his address to the ashram community he stressed up the various values for which Dr Kumarrapa stood and he also narrated how the current situation which is much against the gandhian principles prevailing in the country and the ways and means to tackle them also. He appealed to the students to practice the principles for which Dr Kumarrappa practised.
Following this through skype Prof R Venkataswami, President of the ashram stressed the two important qualities in Dr JC Kumarappa, they are punctuality and fearlessness. He narrated a few anecdotes in the life of Dr JC Kumarappa. Dr JC Kumarappa when decided to settle down in Tamilnadu during his last years our founder invited
him to settle down at our ashram. He readily accepted and his stay for 5 years was a land mark in the history of the ashram. He contributed for the growth of our institutions. In his memory the khadi vidyalaya in our ashram was named after him during his centenary year.
Welcome Address by HM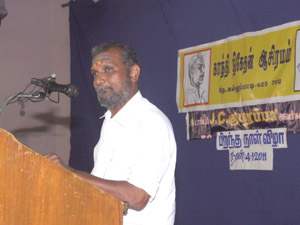 Vote of Thanks by Principal
Ms P Thilakavathi, Headmistress of the school welcomed the chief guest and she stressed on the values for which Dr JC Kumarappa stood and appeal to the students to follow them. Mr Veemaraj, Principal of Dr J C Kumarappa Institute of Rural Technology and Development proposed a vote of thanks and the meeting ended with national anthem.
Vivekananda Birth Anniversary Youth Day Celebration-12.01.2011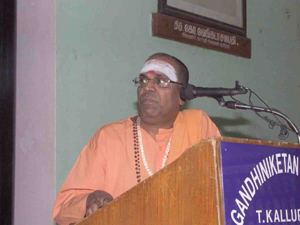 Chief Guest Address by Swami Kamalathmananda
Gandhiniketan Ashram celebrated youth day on 12.01.2011. Madurai Ramakrishna Matt Swami Kamalathmananda, president was the chief guest of the day. His inspiring speech, about Swami Vivekananda was greatly appreciated by the staff and students. Swamiji advised the students to be patriotic and serve our country with dedication and devotion.
Ashram President Prof.R.Venkataswamy in his welcome address narrated incidents from Swami Vivekananda's life, which enabled him to become a spiritual leader who was greatly admired even by the western, materialistic world. Students should emulate him and remain good citizens of our universe. Courage and confidence are very essential for anyone.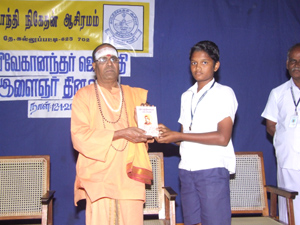 Prize Distribution by Swamiji
Swamiji distributed prizes to the winners of various competitions held in respect of Youth Day celebrations. With the vote of thanks by Ms.P.Thilagavathi, HM, the celebrations came to an end.
Pongal Festival – 16.01.2011
Pongal festival was celebrated at our school on 16.01.2011. The students cleaned and decorated the class rooms and girls drew rangoli in front of every class roo. They prayed the sun god to give hope, happiness and joy to the farming community.
Celebrating Mattu Pongal
Second day we celebrated Mattu Pongal in our school dairy unit. The students cleaned and white washed the dairy unit. The horns of cows were painted they were decorated them with flowers and sandal paste and kumkum. In the morning pongal was prepared and offered to God. Pongal and sugarcane was given to the cows. Students distributed the pongal. Our Headmistress staff members and students participated in this festival.
Republic Day
62nd Republic Day celebrated. Prof.Palanithurai,Gandhigram Rural University was the Chief guest. He hoisted the National Flag and reminded as about the glory of our country and the duties of a good citizen. A special meeting, in the auditorium began at 10.00 am. Ashram Secretary Thiru.R.Nagarajan, welcomed the gathering. President Prof.R.Venkataswamy, in his Presidential address recollected how the Republic was formed after independence. Prof.V.Ragupathy, Gandhigram Rural University also spoke about the importance of the day. Chief guest, Prof.Palanithurai in his special address explained the characteristics of a good republic and how India remains the greatest Republic in spite of its diversities. Prizes were distributed to the students who participated in the state level sports. Primary school students staged cultural programmes which included, speech, song, drama and dance. Six groups of teachers and students celebrated Republic day in collaboration with village public and local schools in six different villages around Kallupatti. With the vote of thanks by Ms.P.Thilagavathi, HM the celebrations which began at 9.00 am came to an end by 11.45 am.
Sarvodaya day
Sarvodaya day and Dr.J.C.Kumarappa memorial day observed. A special prayer was conducted at 6.00 am at Gandhi Mandapam. All the local staff and hostel students attended the prayer. Our President Prof.R.Venkataswamy delivered a special message after the prayer. A special Bajan was conducted as part of the ceremony, for thirty minutes. Then a silent procession was organized comprising teachers, students and Ashram workers. The procession went along Kallupatti main streets holding slogans depicting Gandhian principles and values
FOUNDER'S MEMORIAL DAY-13.06.2011
42nd Memorial Day of our Founder Sri G.Venkatachalapthy was observed today. A special prayer was conducted at KO VE Manimandapam at 6.00 am in which all the local teachers and Ashram workers participated. Our President Prof R Venkataswami gave a special message after the prayer. He recollected how Thonder Ko-Ve was very fond of village development. Though a teacher by profession he was elevated to the rank of Addl. Secretary to the govt due to his dedication and integrity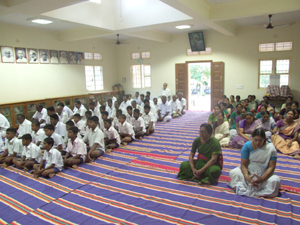 Special prayer at Manimandapam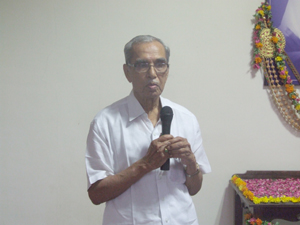 Message by the president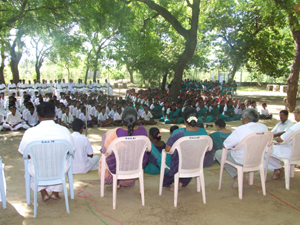 Bhajan at Shantivan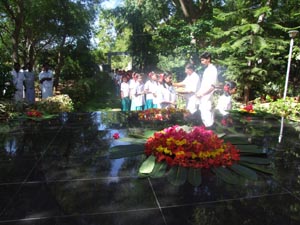 Floral tribute
To commomerate the occasion a bajan was conducted in Santhivan which was followed by floral tributes at Founder's Samathi.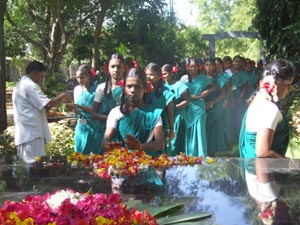 Floral tribute by the students and the staff
Relay spinning at Manimandapam
The memorial meeting was conducted in the school auditorium. Prof.V.Ragupathy one of the directors of our Ashram in his welcome address recollected the services of our Founder. Prof.R Venkataswamy, Ashram President in his inaugural address narrated the virtues of our Founder which placed him amidst the great personalities of his time.
The chief guest Mr Vivekananadan along with the ashram office bearer
Introduction by Prof V Ragupathy
Thiru.V.Vivekanandan, President Gandhi Seva Centre, Sengottai was the Chief guest and in his special address vividly described the simplicity of Dr.J.C Kumarappa, a great Economist, who was a close associate of our founder and a well wisher of our Ashram. He also pointed out the flaws in our educational system. He explained the strength of people which could bring about a great change in our rotten society.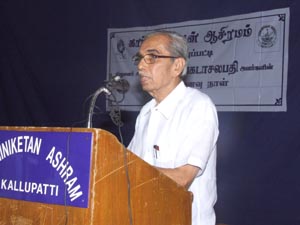 TPresidential address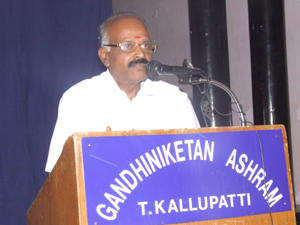 Special address by Thiru V.Vivekanandan
Vote of thanks by Headmistress by Mrs P.Thilagavathi
Dr.Subramanian and Thiru.Murugesan from Madurai Apollo Hospital, Our Administrative Officer Ms.V.Radha, Former HM Ms.R.Rajeswari along with VIPs from T.Kallupatti graced the occasion. Ms.P.Thilagavathi HM proposed vote of thanks.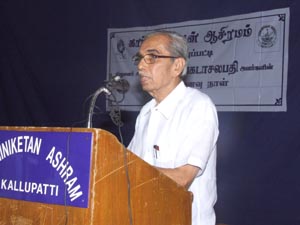 TPresidential address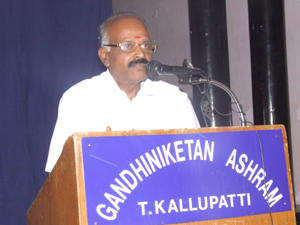 Special address by Thiru V.Vivekanandan
JULY 2011
Drawing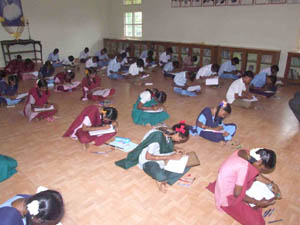 Essay Writing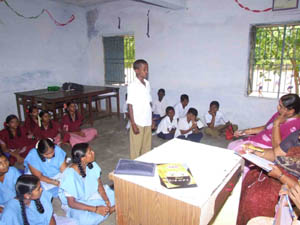 Music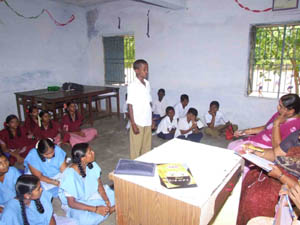 Elocution
Special Tallent
INTER SCHOOL SPORTS COMPETITIONS
Volley Ball
Basket Ball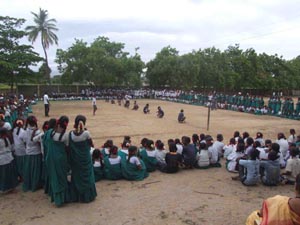 Go Go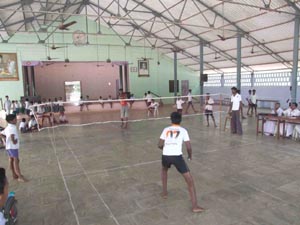 Shuttle Cock
Cultural Festival held in connection with 102nd Founder's day and 71st Ashram Anniversary – 29.07.2011
President Ayya in his welcome address expressed his desire to make our students excel not only in studies but also in traditional arts. Dr.Rohini Sridhar Director Madurai Appollo Hospitals presided over the function, She appealed to the students to inculcate and nurture good qualities which will automatically push them up in life. She also enumerated the various service –oriented medical activities carried out by the Appollo Hospitals throughout the nation. She described the future plan of action to conduct medical survey and camp along with Gandhiniketan Ashram in near by 7 villages. The programme is scheduled to start on 15th August.
Welcome Address by President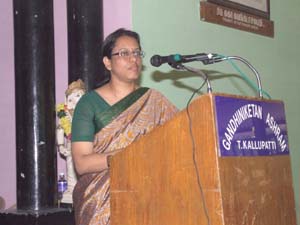 Special address by the chief guest Dr Rohini Sridhar
Thiru.Ponnuchamy, Retired Deputy secretary to govt in the Department of Tourism and culture. He vividly explained the various types of tours in India.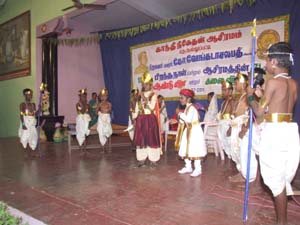 A scene from Ramayana Drama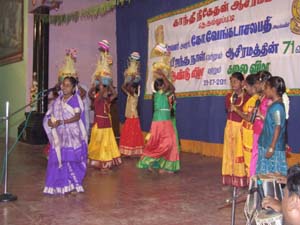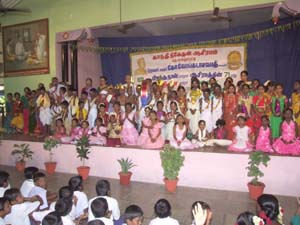 Folk dance by Primary school children along with the staff and guests
Mr Prabu our music teacher gave a scintillating vocal performance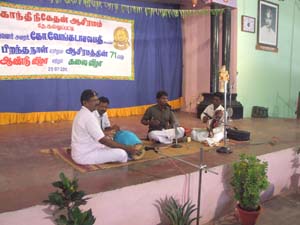 Concert by Mr.Prabhu Music Teacher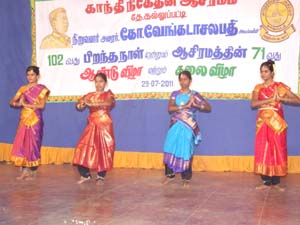 Bharatanatyam by higher secondary school girls
Higher Secondary students gave their performance in the after noon. Bharat Natyam, kavadi, Silambham, Villupattu. Karagam, Tamil and English dramas, comedy show and solo songs were captivating, We had a solo by a school student from UK.
Kolattam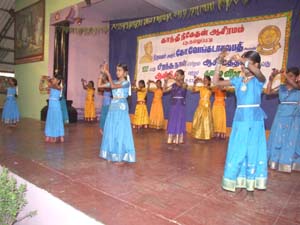 Lessim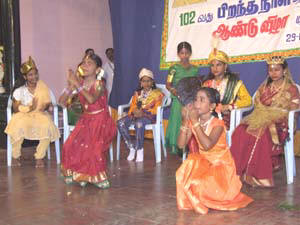 A scene from "Thennaliraman"(English drama)
A scene from "Pakthanin perumai"(Tamil drama)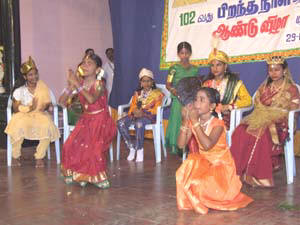 Karakattam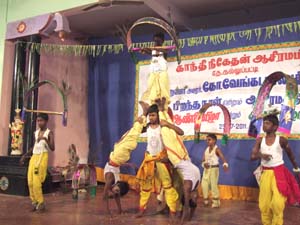 Kavadiyattam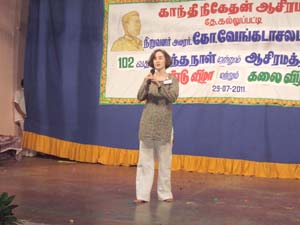 Solo by a student from UK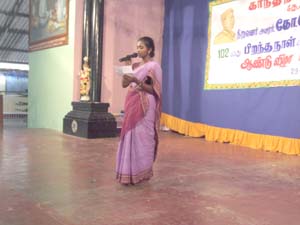 Solo by Ms.Aruna English Teacher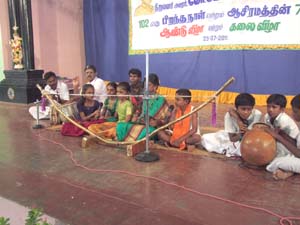 Villupattu