Diamond Jubilee Celebrations of the Gandhi Niketan Ashram and 106th Birthday Celebrations of the Founder Amarar G.Venkatachalapathy an Inter School Competition among the Higher Secondary and High School students belonging to Usilampatti Educational District
In connection with the 106th Birth day Celebration of our founder of Gandhi Niketan Ashram Amarar G.Venkatachalapathy and 75th Annual Day Celebrations of the Gandhi Niketan Ashram, Inter school competitions in various activities among the Higher Secondary and High School Students belonging to Usilampatti Educational District were held.
Literary, Art competitions – 13.07.2015 (First Day)
In Tamil literature, Elocution, Essay Writing, Lyrics Writing competitions were conducted on 13.07.2015 more than 17 schools from Usilampatti Educational District participated in the competitions
The winners are
Elocution – P.K.N. Boys Hr.Sec.School , Tirumangalam
Essay writing – P.K.N. Girls Hr.Sec.School , Tirumangalam
Song – Gandhi Niketan G.V.Hr.Sec.School, T.Kallupatti
Lyrics – Gandhi Niketan G.V.Hr.Sec.School, T.Kallupatti
Drawing – Gandhi Niketan G.V.Hr.Sec.School, T.Kallupatti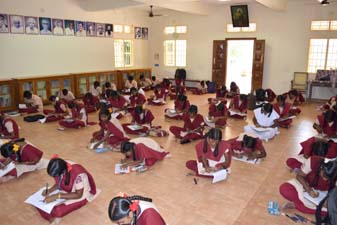 Essay Writing
Elocution
Lyrics
Drawing
SECOND DAY (14.07.2015)
Drama and Individual Talent Competitions were held on 14.07.2015. More than 9 schools from Usilampatti Educational district participated
The winners are
Dance – P.K.N. Girls Hr.Sec.School , Tirumangalam
Drama – Gandhi niketan G.V.Hr.Sec.School, T.Kallupatti
HERITAGE SPORTS-15.05.2015 (THIRD DAY)
The third day competitions were conducted as Village Heritage Sports on 15th July 2015.
In the presence of our Headmaster and teachers, Ashram Secretary Mrs.V.Radha, Madurai Chief Educational Officer Mr.Angelo Irudayasami declared open the competitions. More than 10 schools from Usilampatti Educational district participated.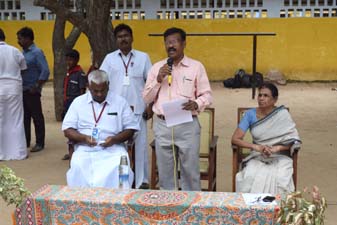 Inauguration of Village Heritage Sports by Mr.J.Angelo Irudhayasamy, CEO, Madurai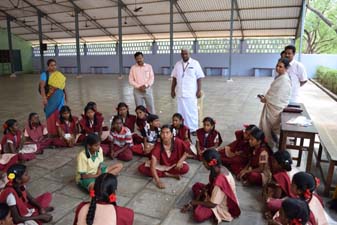 Thattangal
Thattangal, kilthattu, Nondi, Tennikoit, Co-Co were the games played by the female students. Kabbadi, Pambaram, Kitti, Basket Ball and Volley Ball were played by the male students. The boys and girls took part with enthusiasm in the more or less forgotten Competitions.
Pambaram
Kabadi
Nondi
Kho Kho
Tennikoit
Kilithattu
Volley ball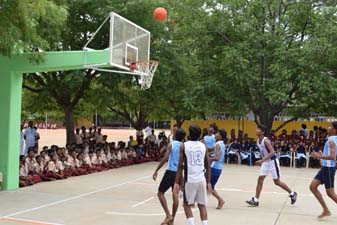 Basket Ball
The winners are
Thattangal – Govt.Hr.Sec.School Sedapatti
Nondi – Govt.Hr.Sec.School Sedapatti
Kho – Kho – Govt.Hr.Sec.School Sedapatti
Tennikoit – Govt.Hr.Sec.School Vellakulam
Kilithattu – Gandhi Niketan G.V.Hr.Sec.School, T.Kallupatti
Kabadi – Gandhi Niketan G.V.Hr.Sec.School, T.Kallupatti
Basket Ball – Gandhi Niketan G.V.Hr.Sec.School, T.Kallupatti
Volley Ball – Gandhi Niketan G.V.Hr.Sec.School, T.Kallupatti
Top (Pambaram)- Govt High School, Gopinayakkanpatti
KAMARAJAR BIRTHDAY-15.07.2015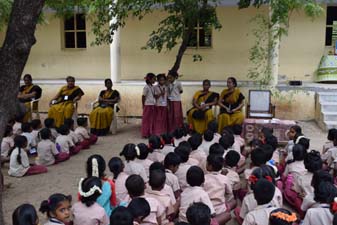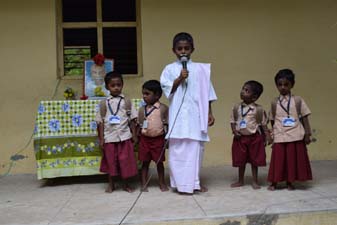 Our Primary School Students
Science Exhibition -16.07.2015 to 17.07.2015
FOURTH DAY
Dr.Jeyachandran CECRI Karaikudi and Dr.Maruthamuthu declared opened the exhibition. Dr.Jeyachandran emphasized that students should have interest in doing researches in all subjects. The experts can create any thing meaningful.
Welcome address by our HM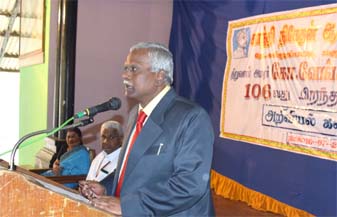 Chief Guest Address by Dr.M.Jeyachandran, Scientist, CECRI, Karaikudi
Inaguration of Science Exhibition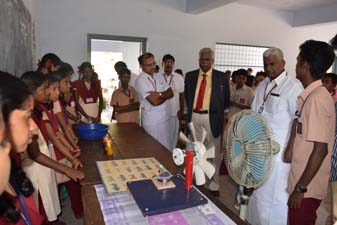 Physics Department
Maths Department
Bio-Zoology Department
Bio-Botany Department
Art Gallery
FIFTHDAY (17.07.2015) PROJECTS FROM OTHER SCHOOLS
Many schools participated in Science Exhibition. Our Ashram Secretary and our Headmaster selected the best project from other school.
The winner are,
Al Ameen Higher Secondary school – Thirumangalam
P.K.N Girls Hr.Sec.School – Thirumangalam
Govt High School – Gopinayakkanpatti.
CULTURAL DAY – 24.07.2015 & 25.07.2015
As a part of our Anniversary We Celebrated the cultural festival on 24.07.2015 and 25.07.2015 in our school auditorium.
The Cultural Programme was started with the prayer. Our Ashram Secretary Mrs.V.Radha welcomed the gatherings. Our President Prof.R.Venkataswami inaugurated the function through Skype. In his talk he told that students should develop their individual talents. It will help them to shine in future life. Identifying those kinds of students is not only the duty of the teachers but also the duty of the parents.
Then Dr.V.Ragupathi Governing Body Member of the Ashram gave inaugural speech. In the function all the students, teachers and parents were also present. Our Headmaster Mr.G.Muthuramalingam welcomed all.
PRIMARY SCHOOL:
The students of our Primary School gave the following cultural items.Baratham, Fancy dress, Mahabaratham drama, Group Dance and Aerobics. Mrs.Vijayarani and Mrs.Uma Maheswari sang a song jointly. Mrs.Parimala, Headmistress Gandhiniketan G.V.Primary school gave vote of thanks.
Kannan Radhai Dance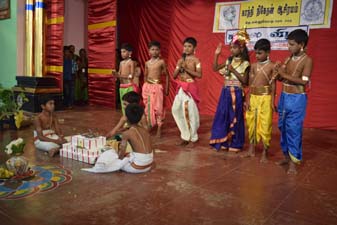 a scene from Mahabharatham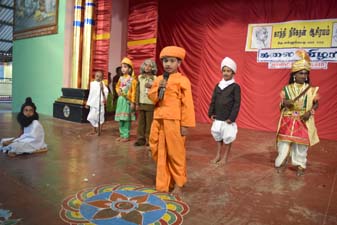 Fashion Show
Umbrella Dance
Aerobics
Kolattam
Participants
HR.SEC.SCHOOL:
After the break the programmes of our Higher Secondary School began. Bharatham, Kolattam, Kummi, Kerala Dance, Aerobics, Kavadiattam, Karaham, Mimeshow, Tamil Drama and English Drama were performed. Teachers drama and Villupattu were also performed.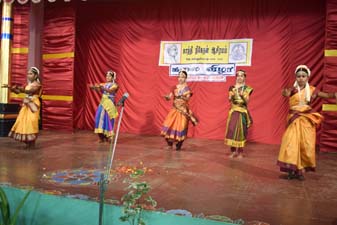 Bharatham
Kummi
Paramarthaguru Drama – enacted by our School Teachers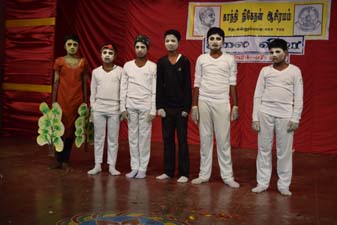 Mime Show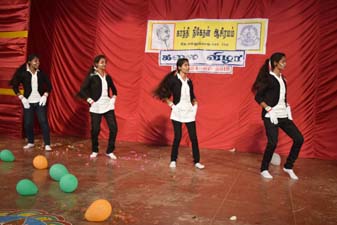 National Integration Dance
Historical Drama
Thai thirunal Dance
English Drama – a Scene from The merchant of Venice
Karakattam
Kannan Radha Dance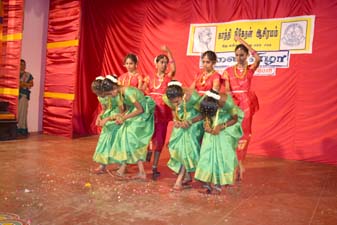 Uzhavar Nadanam
Villupattu-by our school teachers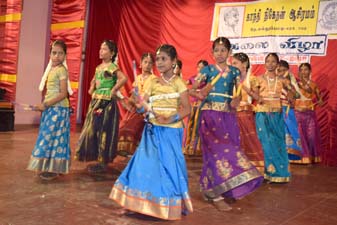 Kolattam
Aerobics
Kerala dance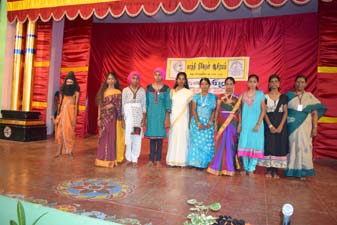 Tamil Drama-Manimegalai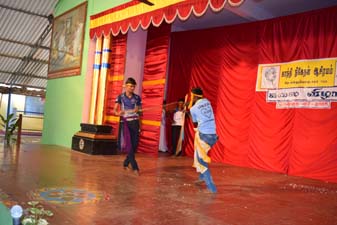 Silambam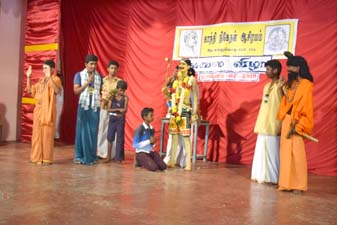 Social Drama
Kavadi

Cultural Programme Participants
A large number of parents and all the students appreciated and enjoyed the programmes.
ASHRAM DIAMOND JUBILEE AND FOUNDERS' 106TH BIRTHDAY CELEBRATIONS
The 106th Birthday of our Ashram Founder Amarar G.Venkatachalapathy Ayya and 75th Annual Day Diamond Jubilee of our Ashram were Celebrated on 31st July 2015.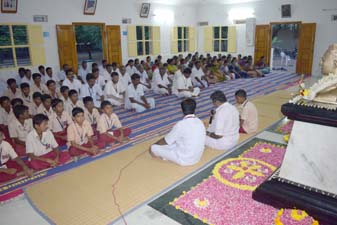 Special Prayer at Gandhimandabam
At 6.00 A.M Special Prayer was conducted at Gandhi Mandapam. In the prayer meeting Prof. R.Venkataswami President, Gandhi Niketan Ashram, Mrs.V.Radha, Secretary Gandhi Niketan Ashram, Governing Body Members and Chief Guests of Gandhi Niketan Ashram, Hostel Students, Teachers of both Gandhi Niketan Primary and Higher Secondary School, Central Office Staff Members also participated.
Special message by our President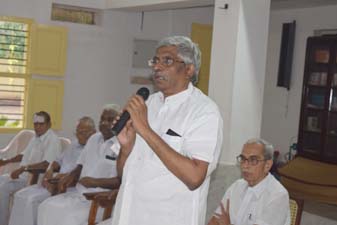 Talk given by our Governing body Member
In the meeting Our Ashram President gave talk about our founder. He told that our founder started our Ashram for the poor and needy people as per the wishes of Gandhiji. He also told that Gandhian Principles and Village Services should be fed in the minds of the students.
"Truth is God
Cleanliness is next to Godliness'. These are the golden words that is adapted by Gandhiji throughout his life. Thinking will help us to improve our Ashram society to go in better way.
Our Ashram Governing Body Member Mr.V.Ragupathi talked about the importance of the Village Service which was followed by our founder. He remembered the arrival of the great leaders like Kamarajar, Kumarsamy Raja and Jawaharlal Nehru's Aunt. Our Ashram is a Sacred place. Innocent, Poverty and Untouchability must be healed from our Society. That is the dream of our founder. We all should remember his thoughts and we should follow in our life. That is the real tribute to him.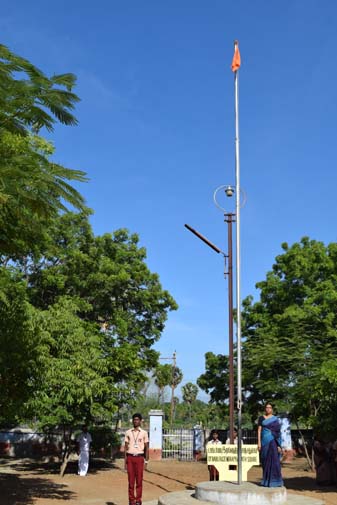 Ashram Flag hoisted by our Secretary Mrs.V.Radha
At 8.30 AM we all gathered at Dr.Rajendra Prasad Square for flag hoisting. Mrs.V.Radha, Secretary, Gandhi Niketan Ashram hoisted the Ashram Flag. At 9.00 A.M We all went to Shanthi Vanam – Founder's Samathi Bhajan was sung by our school teacher Ramani Sekar and group. After that we paid a Floral Tribute at Founder's Samadhi.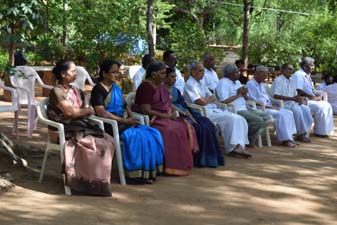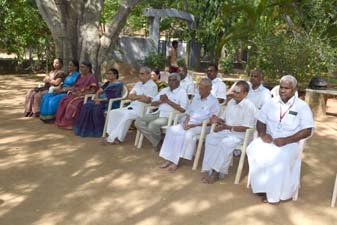 Bajan at Santhivan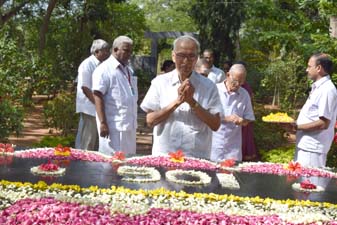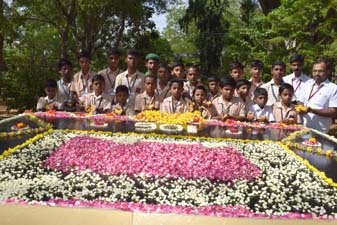 Floral tribute in Founder's samathi
At 10.15 A.M the public meeting started at the auditorium with the prayer. Our Chairman Prof R.Venkataswami welcomed the gatherings. In his welcome Address he remembered the 16 leaders who all supported for the development of our Ashram.
Welcome address by our Chairman
They are
Thiru.T.S.S. Rajan
Thiru.Vaithianatha Iyer
Thiru.N.M.R. Subbaraman
Thiru.Thavasi Naidu
Thiru. Lal Beer
Thiru.K.Arunachalam
Thiru.Nadesan Chettiar
Thiru.G.Ramachandran
Srimathi.Soundaram Ammal
Sarthar.Vetha Rathinam Pillai
Thiru.R.V.Gurusamy
Thiru.Kathirvel
Thiru.R.Gurusamy
Thiru.K.Muniyandi
Thiru.J.C.Kumarappa
Thiru.Selvaraj
Because of all these leader's Sacrifice We celebrate this memorable day as Diamond Jubilee today.
Read Felicitations by Mr.M.Nagarajan, H.O.
Annual Report by Secretary
Mr.Nagarajan, Administrative officer of Gandhi Niketan Ashram read the felicitations received from Thiru. Ponnambala Adihalar, Mr.Venkatramanan Lakshmi Mills, Coimbatore, Dr.Jeyachandran, Chief Enginer, Karaikudi, Mr.Sridharan,Vice Chancellor, Kalasalingam University, Mrs. Valli Umayal Aachi, Arunachalam Trust, Chennai and Mr.Rajendra Cholan I.A.S (Old Student of our School). Our Ashram Secretary Mrs.V.Radha presented the Annual Report.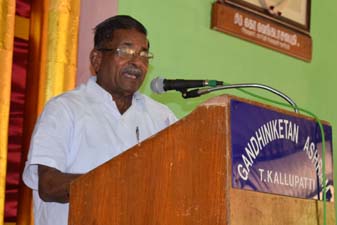 Founder's Oration Speech by M.P.Gurusamy, Secretary, Gandhi museum
Guests
The Special Guest Mr.M.P.Gurusamy, Secretary, Gandhi Museum delivered the Founder's Oration. He shared his memories with our Founder G.Venkatachalapathy. He emphasized the importance of Gandhism and J.C.Kumarappa's principles. "Gandhism" is the only source that will help us to unite our nation. It will help us to change our generation. So, he asked the students to spread Gandhian Thoughts among the people.
He also told that
"Nalam Tharum Sollai Naan
Kandu Kondan" that is Sarvodayam.
Basic Education is the only source to lead the world in progress.
Presidential Address and Prize Distribution by Dr.Gowsalyadevi, Trustee, Gandhigram
Dr.Kousalyadevi Amma, Life time Trustee, Gandhigram presided over the function and distributed the prizes to the students who scored high marks in the Govt Exams in X and XII std and the winners of all the various competitions conducted by our school.
In her presidential address she talked about the importance of Social Service. All should adapt this noble quality.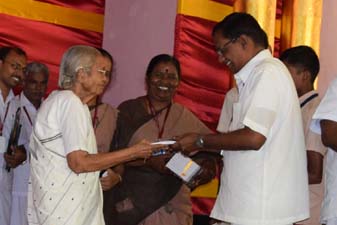 Prize Distribution
Vote of Thanks by our Governing body member
Dr.V.Ragupathi gave vote of thanks. The meeting came to an end with the National Anthem.
INDEPENDENCE DAY- 15.08.2015
We Celebrated 69th Independence Day in our Ashram on 15.08.2015. Our Ashram Secretary Mrs.V.Radha hoisted our National Flag at 8.30 A.M All the students went in the procession through main road. They raised the slogans like Vandemadharam, Mahatam Gandhiki Jay Jaihindh etc.
National Flag Hoisting by our Ashram Secretary Mrs.V.Radha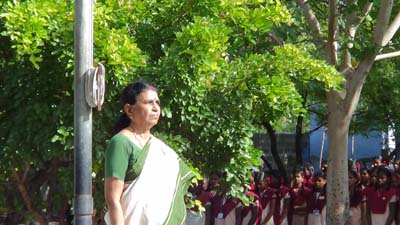 Procession
After the procession we all gathered at auditorium at 9.30A.M. The meeting started with the prayer. Mr.G.Muthuramlingam, Headmaster of our school welcomed the gatherings. In his welcome address he talked about the sufferings of the great freedom fighters "Bahadursha" and "Netaji"
Welcome Address by Our HM Independence day Message by our President